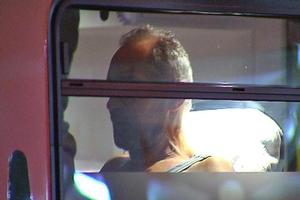 A primary school security guard was shot in the face with an air pistol after doing everything a teenage robber ordered.
The guard was patrolling Onepoto Primary School on Auckland's North Shore about 7.45pm on Friday when approached by a teenager with a pistol demanding money. The Herald on Sunday understands the youth demanded $20.
The guard's boss, Mike Rutherford, said the guard explained he had no money and was then shot at least four times in the face and arms.
"He did everything he asked him to and still got shot," said Rutherford. "Airguns can be very dangerous, but he's lucky it didn't hit anything vital.
"It's exceedingly concerning that there are people out there who are prepared to do that."
The First Security guard got back to his car and drove to nearby Northcote Shopping Centre to call his office for help.
The security company called emergency services, sparking a hunt by armed police. The attacker was not found and there has been no arrest.
A St John spokesman said the guard was taken to North Shore Hospital with minor to moderate injuries, treated and discharged on Friday night.
Rutherford said the guard was a "shy and unassuming guy" of Eastern European descent who was shaken but in good spirits yesterday morning.
He was unsure when the guard would return to work.
First Security guards have been threatened with airguns and imitation guns before but Friday's attack was the most serious incident he had seen.
Neighbour Kim Dolinsky, 49, said she saw a teenage boy with an airgun earlier in the day. She said the boy was part of a gang of youths who often caused trouble in the neighbourhood. "We've had enough of it, the intimidation."
Another neighbour, who declined to be named, said he saw a group of youths walking with a firearm, knocking on doors "hassling people with a plastic gun".
Onepoto Primary principal Allan Hoskins said the school was left with broken bottles, graffiti and broken windows when the school was unattended. He said a new security firm had started patrolling the grounds because the Ministry of Education was no longer paying for security.
Deputy principal Marc Dombroski wasn't surprised by the incident. "We've had lots of problems with vandalism and the drinking of alcohol around the school," he said.
Anyone aged 18 or older can buy an airgun. Police have asked Police Minister Judith Collins to change the law to require a firearms licence. Collins is reviewing the proposal.
A spokesman for Collins said "no decision had been made".
Council of Licensed Firearm Owners spokesman Andre Doyle said he was surprised the bill had not been put before Parliament and airguns should be regulated as weapons.
Surgeon Professor Spencer Beasley, who had operated on air gun victims, said "luck" saved the security guard from more serious injuries.
"It can be fatal if it rips through a major blood vein or through your heart. If it goes into the brain that's another matter."
He said many air rifle users did not appreciate the dangers of an air rifle.