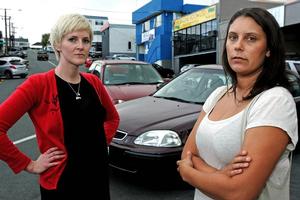 Motorists with damaged vehicles are being urged to shop around, after a Herald on Sunday investigation revealed big differences in repair quotes.
Estimates to fix a dent on a Honda Civic ranged from $250 to more than $600. The cost of getting a Toyota Starlet through its Warrant of Fitness varied between $334 and $600.
Consumer New Zealand research and testing manager Hamish Wilson said some businesses charged what they could get away with and took advantage of customers' lack of knowledge "all the time".
"Increasingly, cars are seen as more complicated and technical so mechanics are in a position of advantage over most people and what they say is often taken at face value."
We visited garages undercover and got four quotes for each vehicle. Then we took the vehicles to Geoff Harper, president of the Auckland branch of the Motor Trade Association, and asked for a second opinion.
Church Street Motors in Onehunga said a dent above the left front wheel on the 1997 maroon Honda Civic sedan could be fixed for $250.
Auckland Auto Clinic, whose panelbeating work is done by Fleet Care Panel and Paint near the airport, said it would cost at least $393.75.
They said ideally we should replace the dented panel with a matching second-hand one. Including a paint job, that would cost $618.75.
At Pakuranga Panel Beaters we were quoted $404 for fixing the dent and repainting the panel. The quote reached $613 at Tony's Panel Beaters in Avondale, who wanted to remove and refit the front bumper, grille and headlight and repair and paint the guard.
Our second test subject, a 1996 Toyota Starlet, failed its warrant because of two badly-cracked back tyres, a steering defect, a broken rear left stop light and non-functioning windscreen washers.
The Mt Eden Vehicle Care Centre, which did the test, quoted just over $600 for getting it up to scratch. Parnell Motors also gave a quote for $600 and Auto Services Newmarket asked for $430. At Eden Park Automotive, we were advised to buy each tyre separately at $80 to keep the cost down. Our washers were filled with water, and with $84 for new steering rack boots and a bulb for the stop light $5, the total cost was $334.
Harper, who owns Enterprise Motors in Birkenhead, asked one of his technicians to check the Toyota without looking at the quotes and came up with a price of $352, including tyres.
He said prices varied because of labour charges and tyre prices but was unsure how two garages quoted $600 for work that could be done for almost half the price.
Harper handpicked Adam Treherne, of Howarth Panel & Paint, to give us a quote for the Honda.
There was no pleasant surprise this time. Treherne said on close inspection the guard was totally bent and the only option was to replace it - which would cost $811, almost $200 more than the highest quote.
"To do it properly, that's a fair price," said Treherne. "I don't think they've looked hard enough - they didn't see the bend in the guard."
Harper said one way to avoid paying more than you bargained for was to visit a garage belonging to the MTA, whose members are bound by a code of ethics. Panelbeaters have an industry body called the Collision Repair Association, which has a "quality assured" standard for members who meet a high standard.
Consumer's Hamish Wilson reminded motorists to shop around. "If you're silly enough to buy into it ... the chances are you're going to pay way too much."
Shopping around
Tony's Panel Beaters
Jeff Hooton's quote was higher than some because he advised removing and refitting the front bumper bar, grille, headlamp and the dented guard.
Eden Park Automotive
Manager Rob Costello said their quote was "pretty standard" for the problems with our vehicle.
Mt Eden Vehicle Care Centre
Owner Brendon McDonald said lower quotes sounded "too cheap" and stood by his quoted price.
Church Street Motors
They said they didn't remember the car but stood by their quote.
Auto Services Newmarket
Isaac McAllister believed a competitor's $600 quote was too high.
Parnell Motors
Manager Fraser Meachen said the price was "an estimate, not a quote", and an accurate figure would be given after sourcing parts.
Auckland Auto Clinic (Fleet Care Panel & Paint)
David Rouse stood by his advice to replace the panel and keep the cost down by finding a second-hand one.
Pakuranga Panelbeaters
Brandon Hoet quoted $404 and was surprised anyone would charge more.