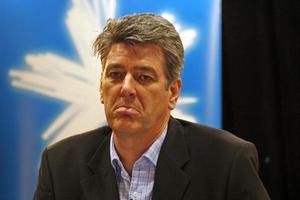 Telecom plans to slash 200 management jobs by mid-year, and more lay-offs are likely as the company seeks to slash its costs.
Chief executive Paul Reynolds would not give details of geographic distribution of the job cuts, but said frontline roles would not be affected.
"It's about simplifying and realigning the business," he said.
"As with any business, from time to time if you take a thorough view you can see ways of getting the job done in a better and more efficient way, and we can see a number of opportunities to do that," he said.
He would not say if the company would seek voluntary redundancies.
The job losses within its 8000-person workforce are part of a programme announced last year that aims to slice more than $500 million from the business's costs by 2013.
Mr Reynolds said $113 million had been cut last year, and a further $244 million was expected to be cut this financial year.
More redundancies were expected in the next couple of years, he said.
The company also yesterday warned that its earnings would be lower than expected for the next three years.
Independent telecommunications analyst Paul Budde said the cuts were "a sad development", and it was a shame the company wasn't looking at other options.
"I would have preferred Telecom to have sold itself out of problems rather than cost-cut itself out of problems.
"Telecommunications is quite an exciting industry, there are lots of new products and services, there's lots of new developments."
Mr Budde said he did not think customers would feel any immediate effect, but recent problems with the company's new XT mobile phone network showed what could happen.
"If you are running out of money you start cutting corners - and that's what's happened with XT.
"So you get a taste of what happens if Telecom is going in the wrong direction. It cannot invest properly in its network and the network is critical to the New Zealand economy and to us all as a society."
Telecommunications Users Association chief executive Ernie Newman said users had to recognise that Telecom needed the freedom to manage its business in response to changing circumstances.
"We'll trust that they are able to achieve that without disruption to customers."
The telecommunications research manager for IDC NZ, Rosalie Nelson, said news of the management cuts was no surprise because of the wide range of political, policy and economic challenges the company was facing.