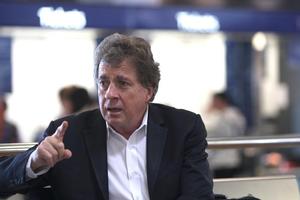 Auckland Regional Council chairman Mike Lee says service to rail passengers is taking a back seat to constant organisational restructuring.
Speaking at the opening of the new Grafton Station beneath Khyber Pass Rd on Friday, Mr Lee noted duplication of Auckland's western railway line - due to be completed by June - began six years ago this month when former Prime Minister Helen Clark turned the first sod on.
"I am not sure who is here today who was present on that occasion, but no one would have dreamed the project would still be under way six years later," he said.
"Of course there were major technical challenges that had to be overcome like New Lynn [rail trench] ... but I don't think that is the complete explanation."
Mr Lee said the initial section of rail duplication was begun in April 2004 by his council, before the Auckland Regional Transport Authority was formed eight months later and took over the job.
The following year, the Government rail agency assumed responsibility, before being amalgamated into KiwiRail in 2008.
"I don't know whether the chopping and changing of organisations and policy has anything to do with the snail's pace speed we do things in Auckland rail, but I guess it doesn't help," he told guests at the ceremony, who included Transport Minister Steven Joyce.
"And this constant making and remaking of organisations will continue with the Super City reforms."
Mr Lee said he would prefer the energy and costs involved with setting up and abolishing rail organisations was put into "a serious refocusing upon what the whole purpose of rail public transport is meant to be about - and that is service to the people of Auckland".
"Over 400 signal and points failures in Auckland last year is not good enough for our travelling public," he said.
He again thanked Mr Joyce for the minister's decision to electrify Auckland's rail network and to buy new trains, but urged the Government not to wait too long before pressing ahead with a central city rail tunnel, which he said had been periodically promised and turned down by legislators since 1924.
Trains began stopping yesterday for the first time at Grafton Station, which has been built in a trench about 200m east of the old Boston Rd Station to attract more passengers as the final part of a $154 million upgrade of the rail network through Newmarket.