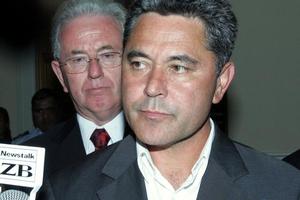 Urban Maori leader John Tamihere has no plans at this stage to run for the Super City mayoralty, saying to do so would split the vote in favour of the right-wing candidate John Banks.
The Waipareira Trust chief executive, RadioLive host and former Labour Cabinet minister has been the subject of speculation concerning a political comeback.
Two weeks ago, it was reported Mr Tamihere's team had sounded out Mr Banks' team on the prospects of Mr Tamihere becoming deputy mayor if Mr Banks got the top job.
It has also been suggested that Mr Tamihere would seek the mayoralty or stand as a candidate for the right-wing Citizens & Ratepayers ticket in the Waitakere ward for a seat on the Auckland Council.
Yesterday, Mr Tamihere said many people had been talking for him, but at this point he had no inclination to run for the mayoralty or as a councillor.
He said it would be very difficult for a third entrant to enter the mayoral campaign against the two declared candidates, Mr Banks - the Auckland City Mayor - and Manukau Mayor Len Brown.
It would take the backing of a national organisation and between $500,000 and $1 million in the bank.
"I would take more Brown votes than Banks votes and Banks' team, I think, were engineering for us to stand solely on that basis," he said.
Mr Banks has encouraged Mr Tamihere to stand for mayor, saying Auckland deserves a contest of ideas and Mr Tamihere has a lot to offer.
Mr Tamihere said the Super City was a big deal, but right now he was having some of the best times of his life away from the cut-and-thrust of politics.
As chief executive of the Waipareira Trust, he was also looking forward to the new Whanau Ora social services system.
Mr Tamihere's position is a talking point out west where a new community coalition, Future West, has been formed to get strong, progressive local people elected and preserve the "Waitakere way" in the Super City.
But Future West, supported by Labour and the Green Party, already has a headache with confirmation that the left-leaning Waitakere deputy mayor Penny Hulse is standing as an independent in the Waitakere ward.
Penny Hulse said there would be a large field in Waitakere and it was unrealistic to expect only two candidates on the left, right and the middle.
Future West spokeswoman Mels Barton said a split vote would be very unfortunate.
Auckland Regional councillors Sandra Coney and Paul Walbran, who stood on the Best for the West ticket in 2004, have not declared their political intentions for the Super City, or what ticket they would stand under.
Future West and City Vision, in Auckland City, are working on selecting candidates for the new Whau ward and local board that combines areas from the Waitakere City and Auckland City councils.
City Vision has opened nominations in the Waitemata and Gulf ward and Albert-Eden-Roskill ward.
It is not contesting the C&R stronghold of Orakei and leaving the Maungakiekie-Tamaki ward to the Labour Party, where City Vision-Labour leader Richard Northey is expected to win selection.
In Waitemata and Gulf, Auckland Regional Council chairman Mike Lee has announced he is standing.
This has been welcomed by City Vision chairman Robert Gallagher, who said he hoped Mr Lee would run as part of the City Vision ticket.