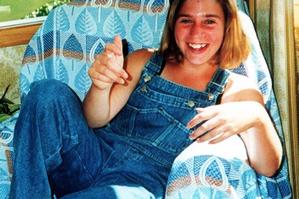 A top international criminal profiler has revealed major new details about the Kirsty Bentley murder, including the theory a crime scene was staged by the killer to throw off police.
The retired British police inspector, who reviewed the case at the request of New Zealand detectives, concluded the killer had an "emotional connection" to his victim.
He is backed by the Kiwi cop who headed the original inquiry and said he had held the same view "since day one".
Kirsty's best friend and boyfriend welcomed the revelations but doubted they would be enough to help clear up one of New Zealand's most notorious cold case murders.
Kirsty, 15, disappeared on December 31, 1998, while walking the family dog, Abby, on the Ashburton riverbank.
The dog was found tied to a tree near the river the next day, and Kirsty's underwear was nearby. Her body was discovered two weeks later in the Rakaia gorge, 40km away.
Retired Detective Inspector Chuck Burton was asked to review the files in a bid to shed new light on the cold case.
After examining evidence and statements, Burton said he believed the offender staged a crime scene.
"It's an offender protecting his own identity by changing and altering the crime scene."
The murderer also knew the local area, he added.
Retired Detective Senior Sergeant Lance Corcoran, who headed the Ashburton CIB when Kirsty disappeared, also believed the crime scene was staged. "I've held that view since day one," he said.
Police never established where Kirsty was killed, which would have been a key piece of the puzzle, he said.
He backed the release of new details by police, but said it could have been done earlier.
"Ten years down the track you run the risk of potential witnesses being deceased, and with the passage of time, people's recall is not as good," he said.
He'd always hoped he would live to see the case resolved.
"It's fair to say I've got some very definite views about a number of things, and I'd like to see those confirmed in my lifetime. I've always felt there's a very real chance of that happening."
The latest officer to head the inquiry, Detective Inspector Greg Williams, said police requested the file be reviewed by Burton, an expert in child murder cases.
He couldn't discuss the findings yesterday, but said the exercise had been useful.
"There's developing scientific stuff around crime, and it's always good to have someone like that look at it."
Williams said police were also releasing new information not previously made public.
The list of suspects has been narrowed to about 20 people, and still includes Kirsty's father, Sid, and brother, John.
Both admitted they were being treated as suspects but denied any involvement.
The lack of answers has frustrated the Bentley family for more than a decade.
Kirsty's mother, Jill, said in 2000 she was unhappy with the handling of the case, and the family felt like they were on trial.
Jill and Sid have since divorced. Sid remains in Ashburton and Jill has remarried and lives in Invercargill.
Kirsty's best friend Lee-Anne Jellyman, now Lee-Anne Kerr, said she hoped new publicity would bring a breakthrough.
"But whether or not it gets people to remember things they may not have mentioned so long ago is a different story."
Kerr, 27, said it had become easier to talk about her friend, but was tough at the time.
"To have something like that happen just blows you out of the water."
She went shopping with Kirsty on the day she disappeared. She dropped her home about 2.30pm but the girls had planned to spend the whole afternoon together.
"My mum used to say that we're lucky that I didn't go with her that afternoon," said Kerr.'
Kirsty's boyfriend at the time, Graeme Offord, said he'd always hoped that the case would be solved.
"But it's been a long time, and I think I, like most of her friends, have just accepted that it may never be."
The Bentley files
* The 15-year-old Ashburton teen went missing on New Year's eve, 1998, while walking the family dog.
* A $50,000 reward offered in the months after her death was withdrawn a year later after failing to bring any new information.
* In 2000, her father Sid Bentley claimed to have remembered new details about his actions on the day of her disappearance after banging his head.
* Sid and Kirsty's brother, John, later said publicly that they were being treated by police as suspects, but denied any involvement.