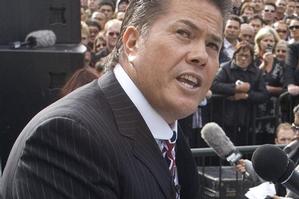 Destiny Church leader Brian Tamaki is personally counselling the pastors linked to a scandal involving inappropriate conduct with foster children.
Robyn and Lee Edmonds have resigned their roles as pastors of the church's Taranaki congregation and are moving to Auckland.
It follows revelations that their son, Joshua Edmonds 29, is facing a criminal charge of indecent assault against a 13-year-old girl and one of their daughters had a relationship with a 16-year-old boy.
The 13-year-old and 16-year-old had been placed in the care of Destiny Church members by Robyn Edmonds through her job as Taranaki manager of the Open Home Foundation foster agency.
She has since resigned from the taxpayer-funded organisation.
An official inquiry into the safety of foster children placed by the agency was launched by Child Youth and Family after the Herald on Sunday broke the story.
We revealed that Joshua Edmonds was appearing in court next month on a charge of indecent assault against the 13-year-old. His mother said he denied the charge.
The inquiry was broadened after Campbell Live alleged Edmonds' daughter Rebekah had a sexual relationship in 2007 with a 16-year-old boy also fostered by the foundation into the care of Destiny Church members. In a statement, Destiny Church spokesman Richard Lewis said: "The Edmonds whanau are now planning to move to Auckland, where they will come under the care and counsel of Bishop and Pastor Hannah Tamaki."
He said Lee and Robyn "believed it was in the best interests of their whanau and particularly their grandchildren to have a fresh start in Auckland".
Lewis said the couple were still members of the Destiny movement.
"It is likely that they will relocate their families to be with their parents in Auckland where professional support will be readily available."
Brian Tamaki had already taken a personal role in managing the situation by meeting church pastors - including Lee Edmonds - before travelling to Taranaki to meet the wider family and local Destiny Church members.
Lewis said the church had encouraged members who fostered children to cooperate with the CYF investigation.
The church was also carrying out its own inquiry.
A CYF spokeswoman said the investigation was expected to take a month and no details would be released until it was completed.
The investigation was being overseen by Ray Smith, the national head of the agency.