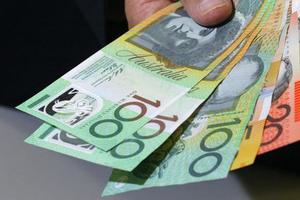 Three mates were just a sleepover away from a fortune as they partied in the Melbourne seaside suburb of Callum almost two years ago.
They awoke the next morning to learn that overnight they had become millionaires.
Their quick draw ticket in the Tattersalls Oz Lotto had come home with more than A$13 million ($17 million).
But within weeks their luck turned sour as the three fell out.
Deals and compromises struck in backyard arguments and car-seat negotiations collapsed into a bitter feud that will this month see Eugene Te Pairi, an expatriate Kiwi from Hawkes Bay, former close mate Brett Pretty and Gary Garlick slug it out in Victoria's grand sandstone Supreme Court.
At stake is the distribution of the huge payout, much of which remains frozen by the court.
None of the three has so far much to show for their good fortune.
Mr Te Pairi is paying the mortgage on a new home in the upmarket Mornington Peninsula suburb of Mt Eliza.
Melbourne's Herald Sun reported that Mr Pretty has a new car and a campervan, and Mr Garlick bought an HSV Clubsport sedan that was damaged in an accident shortly afterwards and is now sitting in his garage.
And their friendship is over.
Documents filed with the court track a cautionary tale that began in July 2008 as Mr Garlick arrived to party with Mr Te Pairi and Mr Pretty at the home the two mates of 20 years shared at Callum, close to the waters of Port Phillip Bay.
The statement of claim filed by Mr Te Pairi and Mr Garlick says the three pooled their money, using $340 for a ticket in that night's Oz Lotto draw.
The statement said Mr Te Pairi threw in A$185, Mr Garlick A$80 and Mr Pretty about A$75, and Mr Pretty bought a 24-game ticket from a nearby news agency, registered on Mr Garlick's Tatts card.
The next day, Tattersalls called with the good news: the ticket had won Division One, worth A$13.18 million.
Within days the mates started to fall out. Mr Te Pairi and Mr Garlick claim the three had agreed Mr Pretty would collect the prize and pay the others their shares.
Their statement of claim says the agreement was a joint venture with either the three holding equal shares or each being paid a share of the prize according to the amount he had contributed to the price of the ticket.
But in a late-night barney at the Callum house, Mr Pretty said Mr Garlick was entitled to nothing and that the lot should go to him and Mr Te Pairi.
The next day, as the pair drove to Mr Garlick's house, Mr Pretty again tried to cut the third man out.
Instead, the three agreed on a compromise: Mr Garlick would get A$1.3 million and a new car of his choice, and Mr Te Pairi would get A$6 million - half immediately and half held in trust in an interest-bearing term deposit.
Mr Te Pairi and Mr Pretty would also share an A$187,000 "party pool".
A few days later, the deal changed again.
Mr Garlick would get A$2 million as soon as Mr Pretty received the payout from Tattersalls.
But in August, only A$1.3 million was put into his bank account.
Mr Te Pairi received his A$3 million, and a further A$45,000 in two payments later in the year from the "party pool". The deal was to change yet again, the statement of claim says.
In November 2008, it was agreed Mr Te Pairi's trust fund would be reduced from A$3 million to A$2.5 million and Mr Pretty would keep A$5.5 million.
The following month, Mr Te Pairi demanded Mr Pretty pay him the money held in trust and the balance of Mr Te Pairi's share of the "party pool".
Mr Pretty refused to pay up, the statement of claim says.
Mr Pretty rejects almost all of this version of events. In a counterclaim, he says he had decided to make multi-million "gifts" to his mates.
He says he had asked Mr Te Pairi what he would need to set himself up for life and to look after his family.
Mr Te Pairi said he would need A$3 million, and Mr Pretty agreed to give him it.
Mr Pretty says he had at first refused a request by Mr Te Pairi to give Mr Garlick A$1 million, but later agreed to pay him A$1.3 million.
He says his two colleagues then demanded Mr Garlick receive another A$700,000, which he agreed to under protest, signing a statutory declaration. But he says he told the pair Mr Garlick would not get the money and they would "never get the [statutory declaration] through a court".
Mr Pretty also says that the A$45,000 paid to Mr Te Pairi was a loan, and he is seeking its repayment, with interest.
The case is set down for a 10-day hearing starting on April 19.
ALREADY LIVING THE HIGH LIFE
He may not be Howard Hughes, but maybe-multimillionaire Eugene Te Pairi, an expatriate Kiwi from Hawkes Bay, is already living some of the style.
Tucked away in a recently bought home in the affluent Mornington Peninsula enclave of Mt Eliza,on the outskirts of Melbourne, Mr Te Pairi is surrounded by the rich and many on the way to becoming so.
How life pans out now depends on a 10-day hearing in the Victorian Supreme Court this month concerning a A$13 million ($17 million) lotto win by him and two mates.
Mr Te Pairi's former associates, Garry Garlick and Brett Pretty, have gone to ground ahead of the case.
So has Mr Te Pairi.
He lives in a long, elegant home in Mt Eliza, with a drive gently arcing through a lush front garden surrounded by a beige brick and wrought-iron fence.
Yesterday, the driveway was filled with white four-wheel-drives.
An associate of Mr Te Pairi answered the door to the Herald and politely said Mr Te Pairi was "done with the press".
"They've been all over us. We had [TV show] A Current Affair at five in the morning getting on to us. We've been inundated."