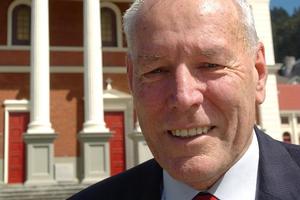 An investigation into allegations of sexual abuse by Catholic clergy in New Zealand is in the best interests of the church, not the victims, abuse support groups say.
Former police commissioner John Jamieson said yesterday he was investigating five allegations of historic sex abuse against members of the Catholic Church.
Mr Jamieson, who is not Catholic, said the complaints were lodged last year and allegedly happened between 20 and 75 years ago.
The inquiries come as the church worldwide is rocked by allegations of child sexual abuse.
Accusations have been directed at the highest level, and the Vatican has denied Pope Benedict XVI was involved in covering up some of the crimes.
New Zealand was no different and the investigation would do more harm than good for the huge number of victims, said Male Survivors of Sexual Abuse Trust national manager Ken Clearwater.
"I've been involved in quite a few of the investigations, I find them very traumatising for the victims," he said.
"I think the processes and procedures that are set up are there to suit the church, not the victims.
"Most of the time the victims feel as though they're actually the perpetrator, the way that the process goes."
Mr Clearwater said there were lessons to be learned from the investigation by the church in Ireland, and only a Government inquiry would reveal the extent of the abuse.
"What they failed to do in Ireland is hold anyone accountable.
"They had an inquiry but the inquiry was about what happened, not accountability," he said. "At the end of the day, it [an inquiry] needs to be set up for the victims and not for the church."
Mr Clearwater said he had been pushing for an inquiry since 2004 but the Government had repeatedly refused.
"I think it's absolutely appalling... one day something's got to happen."
Apologies from the church, including one from the Archbishop of Wellington, John Dew, this Easter Weekend, were not sincere, he said.
"I believe the apologies coming out at the moment are because they've been caught. It's about the protection of the name of the church, they're certainly not victim-focused."
Archbishop Dew said he had apologised to church members for the "humiliation, embarrassment and disappointment" resulting from the continuing reports of child abuse by priests in several countries.
"I think as more revelations come to light and people hear of that, it has put the church in a crisis," he said.
- NZPA