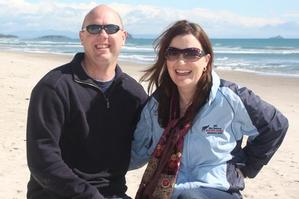 The partner of an Auckland builder killed while inspecting wiring under his house says he told her minutes before his death that he just wanted to have a look and did not plan on touching anything.
Megan Thompson, 36, has told of the moment she heard "the love of my life", Trent Page, 42, scream from beneath his home in Chalmers Ave, Avondale, on Monday morning.
"I heard a loud bang and he yelled out as well. He was under the house so I couldn't see him and I couldn't reach him so I called [111] straight away because he wasn't responding to my calls."
The couple had been planning to go to the Royal Easter Show in Ellerslie for the day but Mr Trent, a carpenter by trade, had gone to inspect the wiring when the hot water supply failed.
The house had recently undergone extensive renovations and an electrician had been in last week. Ms Thompson did not want to reveal the name of the company.
"Trent said that he was going under the house to take a look and that's all he was going to do. He wasn't going to touch anything, he was just going to have a look.
"There were serious problems with the electrics in the house, it seems, and the Labour Department is investigating so the power is off at the moment from the road. The cause of death hasn't been fully determined yet."
The tragedy brought warnings from police and an electricity safety group to call in experts rather than attempting DIY work.
But Ms Thompson said her partner, a father of one adult son, was "a professional".
"He's very safety conscious and he wouldn't do anything that he thought was risky.
"I just want to make it clear that he wasn't a dodgy builder or a cowboy. He was very sensible and took every precaution and anybody who worked with him I'm sure would tell you the same thing."
They met when he was a dance teacher at the Pukekohe Ceroc branch. He ended up buying the branch but sold it after about 18 months to concentrate on his building and garden renovating business, Page Renovations, which his former partner Sue also worked for occasionally.
"I don't know if I can go back to dancing now," Ms Thompson said. "He was the love of my life."
Mr Page also loved vintage cars, motor-racing and photography, she said.
"He was a very busy person, he found it very hard to sit still and do nothing.
"Trent was a really warm and caring person. He could see the good in anyone and he tried to do the best he could to help people."
Balmoral Developments owner Mike Rippin, a member of the Certified Builders Association and the Building Officials Institute, said New Zealand should follow other countries and ban home handymen from doing their own electrical work.
"As a certified builder, not even I touch electrical wiring. I leave it up to the sparky. He comes out and does it all. It's a must that people, no matter how well qualified they think they are, if they're not electricians they shouldn't touch it."