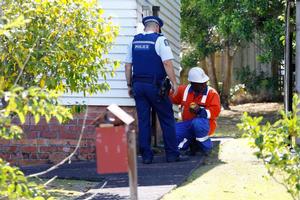 Authorities are urging home handymen to call in experts, rather than attempting DIY work, after the death yesterday of a 42-year-old Aucklander who was working with wires under his house.
Trent Page, a carpenter by trade, was investigating a problem under his Chalmers St home in Avondale when he was electrocuted about 10.15am.
His partner, Megan Thompson, heard a noise from under the house and found him not breathing.
Paramedics tried CPR for about 20 minutes after freeing Mr Page from a crawlspace, but could not revive him.
Police and the Electrical Safety Organisation warned people not to try do-it-yourself repairs in areas with which they were not familiar.
"Whatever he was doing was wrong and he sadly paid the ultimate price," said the organisation's president, Michael Chopping.
Accident Compensation Corporation figures show the home is the most dangerous place for New Zealanders.
DIY disasters killed nearly 600 people in the year to last June - an average of more than 11 a week - and 658,000 people suffered household injuries.
Mr Page's house had recently been renovated, and the Department of Labour is investigating the wiring at the property.
Mr Page's website, Page Renovations, advertises his services as a building renovator with decades of experience working with timber.
The company also offers garden renovations.
A friend, Natalie Perry, said Mr Page had owned a Ceroc dancing studio in Pukekohe.
Mr Page had been dancing Ceroc, a modern jive style, for several years and had only recently sold the business.
He had entered several dance competitions with his partner, whom he had met through Ceroc, Ms Perry said.
Mr Chopping said non-electricians were allowed to install wiring but could not connect it to the electricity supply.
"They should get a registered electrician in to do the job for them ...
"People are not realising the very serious consequences if you're not competent in what you're doing.
"The electricians have to go through safety training every two years to refresh their minds, to be careful about what they're doing."
Britain had banned people from doing their own electrical work, Mr Chopping said.
Senior Sergeant Shane Mulcahy told One News: "Normal common sense is that it needs to be done by a tradesman or a professional person.
"Get them to do it rather than trying to do it yourself."
In another Easter accident at home, a 29-year-old Rotorua man suffered serious head injuries on Sunday when struck by a branch he had cut while pruning trees and fell 10m.
The Westpac Waikato Air Ambulance flew him to Waikato Hospital, where last night he was in a stable condition in the intensive care unit.