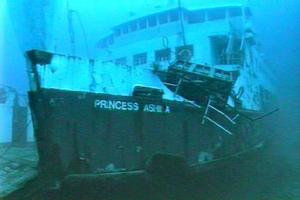 A New Zealand businessman accused of manslaughter following the sinking of the Princess Ashika ferry with the loss of more than 74 lives in Tongan waters last August is reportedly trying to leave the island kingdom.
John Jonesse, the former chief executive of Shipping Corporation of Polynesia who advised Tonga authorities to buy the vessel, "has booked himself on a flight out of Tonga," the ABC said today.
A magistrate ruled that Mr Jonesse should be given back his passport, but the Tongan attorney-general refused to return it and has appealed to the Tongan Supreme Court.
On Monday, Mr Jonesse was taken into custody after failing to appear in court on a charge of manslaughter, but as he was being taken from his home in Nuku'alofa by police, he told journalists that there had been a misunderstanding.
Police laid the charge of manslaughter against Mr Jonesse, formerly a Christchurch businessman, separate to the royal commission of inquiry into the sinking of the inter-island ferry.
The commission today handed its findings to King George Tupou V, the Speaker and the Prime Minister.
The Tongan public is still awaiting the release of the inquiry report - and its translation into Tongan - but some journalists have obtained copies.
Radio New Zealand International reported that though the two key terms of reference were to identify criminal and/or civil liability in relations to the sinking, the commissioners have been careful not to incriminate anybody.
"Obviously they have considered what counsels' representing parties to the commission had to say about the wording of the report, but in the report they say the Government had systemically failed in all areas relating to the buying of the Ashika," said the radio network's correspondent, Mateni Tapueluelu.
The report also said Mr Jonesse did not do enough homework in gathering information for the Government to decide whether or not to buy the Princess Ashika, Tapueluelu reported.
The final report follows five months of investigations with the commission hearing repeatedly that the unseaworthy vessel's purchase was marked by a lack of process, an absence of due diligence and the use of forged documents.
Mr Johnesse is one of three individuals and the Shipping Corporation charged with manslaughter in relation to the death of one ferry passengers.
- NZPA