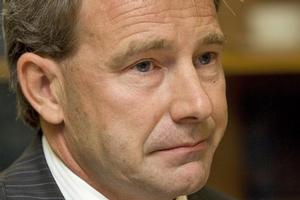 Former Government minister Phil Heatley will return to Cabinet, Prime Minister John Key announced today after an inquiry found he spent taxpayers' money wrongly but did not intentionally break the rules.
The Auditor-General, Lyn Provost, today published her report on the audit of expenditure incurred by Mr Heatley's ministerial office from when he became a minister in November 2008 until he resigned from his ministerial portfolios on February 25.
"Any reasonable New Zealanderr would reach the same conclusion that I did," he said.
"There was no deliberate attempt to rort the taxpayer."
Mr Key said mistakes had been made, but the Auditor-General had pointed out that the rules were "confusing."
He said it was a wake-up call for ministers and all MPs that they need to be more careful when they spent taxpayers' money, and that the message would not be lost on them.
Mr Heatley will take the Housing and Fisheries & Aquaculture portfolios when he is reinstated to Cabinet on Thursday.

"The change of title for the Fisheries portfolio reflects the importance of aquaculture in driving economic performance," Mr Key said.

Mr Heatley quit Cabinet after admitting he misused his credit card and Ms Provost was asked to probe into what happened.
Mr Heatley's resignation followed the release of ministerial credit card statements to the media under the Official Information Act.
It was the first time the information had been released in that format. Ministerial Services is now dealing with requests for the previous administration's credit card statements as well.
"Mr Heatley's overall ministerial office expenditure was reasonable compared to expenditure incurred by other ministerial offices for the period we looked at," the report said.
"We found that a total of $1402 of Mr Heatley's expenditure - $608 in Vote Ministerial Services and $794 in Vote Parliamentary Service - was outside the rules. In all cases, Mr Heatley thought that the expenditure was within the rules, but he did not understand the rules correctly.
"In the case of the expenditure in Vote Parliamentary Service, the Parliamentary Service was also administering a rule incorrectly for members of Parliament, and Mr Heatley is not the only member who will have been affected."
Mr Heatley said he was satisfied with the findings.
"I'm very pleased that they found my mistakes were unintentional, which is what I'd always said.
"I have been through the process and now I just want to move on ... and get back on my horse."
Mr Heatley would not say whether he would be returning to a ministerial position, except that he would have a discussion with Prime Minister John Key.
A spokesman for Mr Key said he would comment later this afternoon.
Labour leader Phil Goff said it was appropriate Mr Heatley had resigned and did not think he should be returned quickly or it would look like "a very temporary sanction".
"I think to be serious about high standards the prime minister needs to continue that sanction against Mr Heatley."
He was dubious about suggestions some of the misspending was an oversight.
"It's very hard to take a holiday with your family and pay for it on your Crown credit card and not know that you shouldn't be paying for that personally. It's very hard to buy a bottle of wine and then describe it as a meal with your spouse...
"I think the position went to his head very quickly - he had barely been a minister a year, and he had that sense of entitlement. There needs to be sanctions against any person at any time who has that sense of entitlement and misspends Crown money."
- NZPA