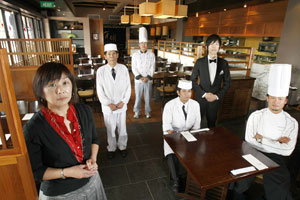 Auckland's oldest Japanese restaurant, Ariake Restaurant and Sushi Bar, will shut its doors tomorrow, after 30 years in business.
The restaurant's fate was sealed when Japan Airlines, a major shareholder in the company that owns it, went bankrupt in January, saddled with a $36 billion debt.
But despite the closure, key staff say they will remain loyal to the Albert St restaurant.
They say they will search for a new investor to replace the current owner, TFK Corporation, and re-open Ariake.
"To Auckland, the restaurant is part of its cultural history," said manager Miyuki Sakairi. "Ariake was where many Kiwis were introduced to sushi and sashimi."
"But to the staff, this is our second home and we are like a family. We want to do everything we can to stick together and keep this piece of New Zealand history alive."
She said it was common for Japanese employees to work for a single company for their entire working life, so the closure of a long-standing business such as Ariake could be devastating.
"This concept of Japanese loyalty to his job is something I don't think many Kiwis can understand," Ms Sakairi said.
Head chef Morita Masaru, 44, who has worked for the corporation for 26 years and was sent to Ariake two years ago, said restaurant staff were shattered by the closure.
Six of Ariake's top staff, including Ms Sakairi and Mr Masaru, will not be looking for another job - but rather, a new investor.
"We will be on standby, and ready to work together again to bring Ariake back in Auckland," Mr Masaru said.
Ariake opened in 1980 and in an attempt to keep its cuisine traditional and authentic over the years, it has always employed chefs directly from Japan.
Last year, the restaurant won a battle with Immigration New Zealand to retain its Japanese chefs, after changes to job laws in the recession favoured a "Kiwi first" policy.
TFK Corporation representative Yukio Arai said the restaurant's closure was disappointing, but circumstances had made it impossible to keep the business running.
In its heyday, Ariake catered aircraft meals for Air New Zealand and Japan Airlines, and hosted many local and overseas dignitaries, including Japan's Crown Prince Naruhito and Princess Masako on their visit to New Zealand in 2002.
But it has faced financial losses over the past four years.