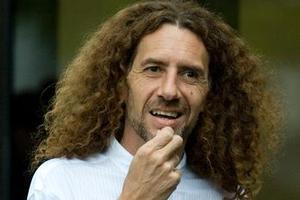 Christchurch musician Jimmy Mason, convicted of assaulting his 4-year-old son, says being labelled a child-beater is hard to deal with and has at least once led to him punching someone who provoked him.
Mason, representing himself, told the Court of Appeal yesterday that his case should never have been brought to a court because police had told him he would get away with a warning.
Mason, 51, was convicted last year of punching his son in the face and grabbing him by the hair. He was sentenced to supervision and to attend parenting courses.
He denies punching his son, saying he only flicked his ear, although witnesses during his trial said they saw the punch.
Outside the court Mason said he found it hard coping with the stigma attached to being convicted of assaulting his son.
"I cut my gigs in half because I got stepped out about four times by pissed guys who thought I went home and beat my kids up.
"I ended up punching one to show him the difference between a punch and a flick."
He rarely took his children for walks any more and felt uncomfortable taking them to school.
Mason said he did not care about winning his case, but wanted to make his case for the "principle of standing up for what you believe in".
He told the court that police had said to him on two occasions they would not bring charges against him. Police decided to prosecute only after media coverage of the story.
Justice Grant Hammond said police had also told him they would investigate the case further, so the prosecution could not have come as a complete surprise.
Mason also questioned the role of the judge in his case as the 13th juror.
In summing up, the judge asked the jury to consider the Crown case of hair-pulling and the punch to the face, and that either could constitute assault. But in sentencing he considered that the jury had accepted the punch.
Justice Hammond told Mason that it would be "ridiculous" to bring charges for each punch or kick thrown in an assault.
The acts had been considered as one charge because otherwise Mason would have been open to more than one conviction.
But Mason said an ear flick and a punch were different acts that could have different motivations, and should be treated as separate charges.
Crown prosecutor Megan Ball said the jury had accepted the Crown's version of events, meaning it was appropriate for the judge, in sentencing, to accept that Mason had punched his son.
After putting his case, Mason told media his parenting courses were a waste of time because they were catered to a "utopian world of parenting", rather than a world where "I woke up on a bender because I got pissed the night before and my kids are screaming".
"It's a parenting course for brand-spanking new parents who don't have kids, not for parents at ground zero where most people are."
The court reserved its decision.