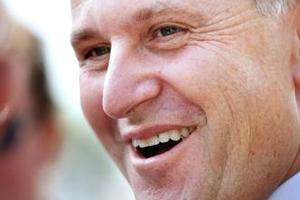 There will be no open cast mining on Great Barrier Island or in the Coromandel, Prime Minister John Key assured Parliament today when he came under sustained attack over Government proposals to open up some of the conservation estate's protected land.
Labour, the Greens and the Maori Party joined forces to question Mr Key and Energy Minister Gerry Brownlee, who yesterday announced the proposals to remove 7058 hectares from the protected status of schedule four of the Crown Minerals Act.
Opposition MPs focused on the impact mining would have on tourism, concerns which Mr Key rejected.
"New Zealand's land mass is just under 27 million hectares and maybe, at most, 7000ha might be taken out of schedule four," he said.
"That's unlikely to turn back the 747s heading for New Zealand...and if it was going to have such a disastrous impact, can someone explain why we had a record number of tourists last year while there were 82 mines operating in the conservation estate - with 74 of those permits granted by the Labour government," he said."
Mr Key acknowledged none of the 82 were in schedule four land, protected because of its high conservation value. He parried questions by asking MPs whether they thought any of the 82 mines should be closed down.
Labour leader Phil Goff wanted to know whether mining in the Coromandel and on Great Barrier Island would be the "surgical incisions" Mr Key had previously referred to, or like the huge open cast Martha Mine at Waihi, with its 40 million tonnes of tailings.
"I can rule out any open cast mining in those areas," Mr Key said.
He had not previously given that assurance.
Maori Party MP Te Ururoa Flavell asked Mr Brownlee whether Ngati Rehua would have a role in the discussions about the schedule four land on Great Barrier Island.
Mr Brownlee said he had already told the Maori Party's co-leaders, Tariana Turia and Pita Sharples, that he would personally meet Ngati Rehua representatives.
"They will have a great deal of influence on the Government's final decisions," he said.
Opposition to the Government's proposals, which are open for public discussion for the next six weeks, has been steadily mounting since the announcement was made.
In other developments today:
* Mr Key said he didn't have a problem with his Auckland Central MP Nikki Kaye opposing mining on Great Barrier Island. Ms Kaye said the argument for allowing it "doesn't stack up" and she was going to try to convince her caucus colleagues of that;
* Auckland Mayor John Banks continued his vehement protest against mining on the island, saying it would be turned into an arid moonscape and the proposal was "stupid";
* National's Coromandel MP Sandra Goudie said she was satisfied the Government was balancing economic gains against environmental responsibility and putting out a discussion document was "exactly the right thing";
* National's West Coast-Tasman MP Chris Auchinvole welcomed the proposals, which include removing 3315ha of protected land from the Inangahua sector of Paparoa National Park on the West Coast.
"On a purely local level, any opportunity for increased wealth being generated on the West Coast has to be welcomed," he said;
* Auckland Regional Council chairman Mike Lee said the proposal to open part of Great Barrier Island for mining was "just an outrage" because it was an area of national and international importance. "Mining on Great Barrier is not allowed for in the Auckland District Plan...let's hope the Government re-thinks what it is proposing before it is too late," he said;
* Labour's tourism spokesman Kelvin Davis said 185,000 people were employed in the tourism industry, while there was only a few thousand jobs in mining and 99 per cent of the profits went to overseas mining companies. "We pride ourselves on being 100 per cent pure, but targeting our most treasured land for mining is 100 per cent dumb."
- NZPA