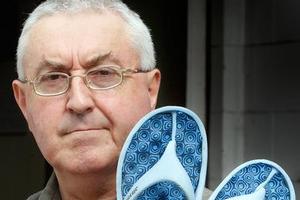 A 60-year-old man who was turned away from an alternative rock concert for wearing cushioned health thongs claims he was discriminated against by security guards for being too old.
Regular concert goer Dr Barry Clark was turned away from Mt Eden's Powerstation last Wednesday despite having a valid ticket to see visiting American group The Dead Weather - at a cost of $100.
"I was clean, neat and tidy - wearing a blue and white pinstripe shirt and dark slacks - and initially thought the doorman was joking when he refused me entry," said the Sandringham man.
Dr Clark said he was turned away because of his footwear - a pair of "hi-tech health cushioned-style" thongs which had pads to massage the feet.
"I offered to take them off but the doorman still would not let me in."
Dr Clark said when he asked to speak to the manager or venue promoter he was refused, and on further questioning was told the rule forbidding thongs was printed on the back of the ticket.
"When I pointed out to the doorman his latent lie about the ban on Jandals being printed on the back of the ticket he said it was covered by the section five referring to security arrangements banning knives, umbrellas, glass and alcohol."
Frustrated and with no other options left, Dr Clark ended up catching a taxi home, changing his shoes and returning to the venue partway through the concert.
"It took me one and a half hours and two expensive taxi rides to return to my home ... to fetch a pair of shoes, during which time I missed the whole of the first set."
Dr Clark said he has attended countless concerts in New Zealand and overseas - often in thongs - but never has he been turned away before.
"It was only much later when I entered the venue that I realised what was really going on. Inside I was amazed to find dozens and dozens of young people with uncovered feet wearing various kinds of sandals and Jandals.
"In short, I was a victim simply of age discrimination. Because I am older and grey-haired I don't fit with the casual young image that venue promoters seek to promote and that is why I was turned away."
Dr Clark has written to the promotor, Frontier Touring, but is yet to hear back. He has also spoken to a lawyer and plans to file a case with the Human Rights Commission.
The commission wouldn't comment specifically on Dr Clark's case. But spokesman Gilbert Wong said although premises did have the right to choose who entered their venue, they couldn't deny access on discriminatory grounds.
A spokeswoman for Frontier Touring said a complaint had been received and would be responded to on Thursday.