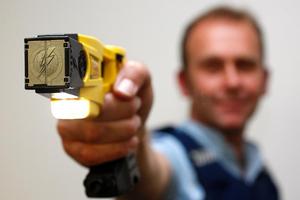 Four hundred more front-line police officers are being trained to use Tasers.
The Central police district - covering much of Taranaki - has been allocated 76 Taser units in the latest roll-out of the weapon.
Senior Sergeant Richard Smith said the public would not notice any difference as the Tasers would not be routinely carried on duty.
"They will be issued to trained officers as they start a shift and locked in a special safe in patrol cars."
The roll-out of Tasers throughout the country follows a year-long trial in Auckland City, Counties Manukau, Waitemata and Wellington from September 1, 2006. Tasers were reintroduced permanently to those districts in December 2008.
Mr Smith said that, "just like firearms and pepper spray, the Taser is simply another tool in the toolbox".