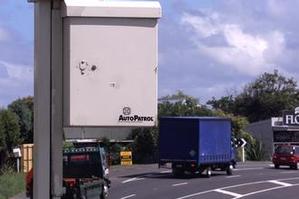 Every time a speeding motorist passes a pole-mounted speed-camera box on the side of the road, there is just a one-in-five chance of it having a camera inside.
Herald inquiries have revealed that police own only 12 fixed speed cameras, which are rotated among 56 boxes mounted on poles and power poles around New Zealand.
The cameras have all been in service since 1993 - before digital technology - and all their images must be processed in a darkroom.
The figures were revealed by the national road policing manager, Paula Rose, after a Herald Official Information Act request for information on the number of speed-camera tickets issued nationally.
Fixed cameras may be posted at a particular site for a matter of days or weeks before being moved, she said.
Police also have 43 mobile cameras - recently upgraded to digital - that operate from police vehicles.
The 55 speed cameras - fixed and mobile - were used in 1693 locations last year.
More than a third - 607 - yielded fewer than 20 tickets each, and 63 yielded only one ticket each over the period.
Three of those were on Auckland's Southern Motorway, at Manukau, Otara and Papakura.
Two were on Porchester Rd, at Randwick Park and Takanini, and two on State Highway 36 at Kaharoa, in the Bay of Plenty.
But Ms Rose said the figures showed the "slow down" message was getting through to drivers.
"We put our speed cameras in places where people do speed, where speed has contributed to crashes in the past and where we're trying to actively change behaviour.
"So where a camera has been deployed in a site where it has only detected one offence, that's fantastic news because that means drivers passing that site are complying with the law," Ms Rose said.
Speed cameras were intended to make drivers slow down, she said.
The Automobile Association's general manager of motoring affairs, Mike Noon, said the low ticket numbers at some sites might be a reason to change where the cameras were being placed.
"If it's not now a hazardous area, a high-speed area, and the cameras are not catching anyone, then we should look at moving them to a site where we do have a safety issue."
Mr Noon said that if the cameras were moved, police could keep the empty boxes in place to act as "silent policemen".
Motorists would be fooled into thinking there was still a camera inside and would reduce their speed.
A Ministry of Transport survey had found the mean speed in a 100km/h zone around speed cameras was now 96.6km/h, down from 106km/h a decade ago.
Smile and pay up
New Zealand's speed cameras:
* 12 fixed cameras rotated among 56 boxes.
* 43 mobile speed cameras.
Busiest cameras:
* Great North Rd, Glendene: 10,484 tickets.
* Ngauranga Gorge, Wellington: 7658 tickets.
* Onewa Rd, Birkenhead: 7155 tickets.
* Mahia Rd, Manurewa: 5918 tickets
* East Coast Rd, Browns Bay: 5754 tickets