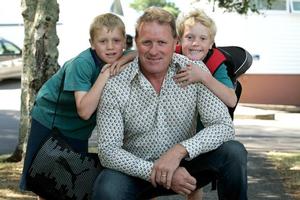 Kiwi men are increasingly likely to brandish aprons as axes, and do the dishes rather than the dirty on their partners.
The rise of the house husband seems unstoppable, with Statistics New Zealand revealing the number of men looking after a child in their household leapt from 343,893 men in 2001 to 372,858 in 2006, the latest year figures are available for.
The phenomenon has even inspired a Facebook page - the House Husbands' Association of New Zealand. Dads use the group to share parenting tips, jokes and recipes, and even organise an annual pig hunting trip.
Wellington dad and author of parenting book Call Me Dad, Eric Mooij, says the shift is a result of society "maturing" and "stepping up".
He says the number of stay-at-home dads probably increased further during the recession, with more fathers out of work.
The trend has been noted by early childhood researcher Dr Sarah Farquhar.
A paper she presented at the Men in Early Childhood Summit in Auckland noted it was much more acceptable for dads to be primary caregivers.
That was a far cry from the 1990s when people tended to look twice at men near children's playgrounds.
She said the change was also reflected in the early childhood sector. The number of male kindergarten and childcare teachers increased markedly between 2005 and 2009.
Farquhar welcomed the change but said there was a long way to go before the numbers of male teachers were up where they should be.
And she labelled the Government "sexist" for not doing enough to recruit male teachers.
Stefan Korn, one of the authors of the Wellington-based website DIYFather.com, said attitudes towards men who stayed home were improving but weren't perfect.
"A lot of the guys do get a bit of flack from their mates - they say 'you're staying home with the kids, do you want to hand in your man card?"'
He said most chose to stay home for financial reasons, because their partner earned more, but some simply wanted time with their kids.
"It's fantastic for any parent to spend time with their children, it's just that dads in the past haven't really experienced it. They're now waking up and saying - we're missing some really good stuff here."
Korn, father to 2-year-old Noah, said dads were generally happy to do their share of the housework, as well.
"It's not like, because you're a guy, you don't know how to do the dishes or put the washing in the machine," he said.
"I've never come across a stay-at-home dad who had put the washing on and it all came out pink or it all shrunk."
Christchurch father-of-two Vaughan Allison fell into house husbandry naturally. His wife missed her career and, after 22 years of being an engineer, the idea of being with the kids was just the change he was after.
"I'm also better at cleaning than my wife," he adds.
But he says there are also some biological disadvantages: "Women are much better at making sure they network with other mums. They seem natural at scheduling catch-ups and play dates," he says.
"I feel a bit left out from the mothers' groups."
Flexibility to be a hands-on father
Derek Sampson is a regular at Kohia Terrace School in Auckland's Mt Eden, dropping off and picking up sons Thomas, 10, and Henry, 7.
And the former manager of the Blues Super 14 franchise doesn't mind doing his share of the supermarket shopping, cooking, house cleaning and washing.
His wife Leigh is a hospital manager and works set fulltime hours. He co-owns a drinks company, allowing him to work flexible hours from his home office.
He usually does two hours' work from 6am before the boys wake up, and schedules appointments for while they're at school and in bed.
One day a week, when he's out of town on business, Leigh steps in.
"It's all about a team effort," says Derek, adding he and his wife divvy up jobs according to who is best-placed to do them.
He enjoys being involved in his boys' lives, but admits he's an "oddity" among the mothers at the school gates.
The select group of dads also includes a Team New Zealand sailor, a Dancing with the Stars dancer and other self-employed businessmen, none of whom has 9-5 jobs.
"We're the lucky ones," he says.
* * *
* Number of male teachers in regular childcare in 1992: 142
* Number of female teachers in regular childcare in 1992: 4703
* Number of male teachers in regular childcare in 2009: 241
* Number of female teachers in regular childcare in 2009: 15,367
- additional reporting, Celeste Gorrell Anstiss