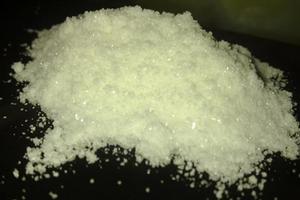 Customs says it is reviewing the way it targets rising levels of imports of the party drug mephedrone, which has been linked to some deaths in Europe.
A Class C drug in New Zealand, the stimulant has been increasingly abused, with British police this week linking it to two deaths.
Customs manager of drug investigations Mark Day said more substances containing mephedrone were being stopped at the border.
The availability and use of mephedrone in New Zealand was a recent trend, he said.
Asked why a New Zealand-based website had been able to advertise the drug for sale, Mr Day said the service was reviewing its approach because of the recent rise in the number and amount of drug being intercepted.
The first recorded interception by Customs was made in November last year, and in the three months to the end of February, there were about 20 seizures of tablets and powder.
Mr Day said such "designer" drugs were created to get around existing drug laws by modifying the molecular structures of existing drugs or by finding one with a similar structure but different chemical and biological properties.
Mephedrone was structurally related to amphetamine, and a derivative of the parent compound cathinone, one of the psychoactive ingredients found in leaves of the khat tree, used by some people in Somalia, Yemen, and other countries around the Horn of Africa and the Arabian peninsula.
National Drugs Intelligence Bureau coordinator Detective Inspector Stuart Mills said earlier this week that concerns had been raised about the strength of mephedrone available in New Zealand.
"It is believed that some drug users take mephedrone as a substitute for ecstacy (MDMA)," he said.
"There is also a risk that tablets which people believe to be MDMA may in fact contain mephedrone."
The maximum penalty for its possession was three months jail and/or a $500 fine, with up to eight years in prison for importing or supplying.
- NZPA