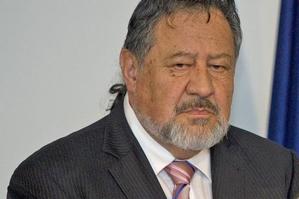 Associate Corrections Minister Pita Sharples was not consulted about the amendments to the Government's three-strikes bill before it was announced in January, documents show.
The Labour Party says it is "astounding" that Dr Sharples - who is also Maori Affairs Minister - was given no information about an amended bill that, according to the Ministry of Maori Development (Te Puni Kokiri) and the Justice Ministry, would have a negative impact on Maori.
In a document tabled in Parliament yesterday, Dr Sharples writes in a letter: "I can confirm that as the Associate Minister of Corrections, I received no information prior to or following the announcement of the three-strikes policy by the National and Act parties on 19 January 2010."
A Cabinet document, signed by Police and Corrections Minister Judith Collins on December 16 last year, was also tabled showing that the only consultation on the amended bill was between National and Act.
The bill needs the support of only National and Act to pass into law.
Labour's corrections spokesman, Clayton Cosgrove, said he found it astounding "that Pita Sharples, a senior Government minister, was not consulted on an issue that directly affects his own roles as Associate Corrections Minister and Maori Affairs Minister".
In the House yesterday, Ms Collins said Dr Sharples held regular meetings with the Corrections Department.
She added that the three-strikes bill was in the police portfolio, not corrections.
Labour MP Shane Jones also questioned Dr Sharples over being "sidelined".
"Where's the mana in being Associate Corrections Minister and at the same time ignored by the very Government of which you are supposed to be an integral part?"
Dr Sharples rubbished claims he was out of the loop.
"The reality is that I was given briefings, I saw Cabinet papers and attended Cabinet meetings as Minister of Maori Affairs."