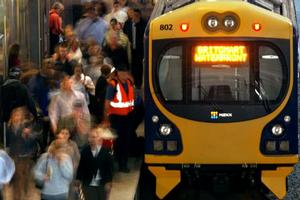 Public transport subsidies in Auckland went up 14 per cent last year but covered an almost 40 per cent increase in distances travelled by rail, bus and ferry passengers.
Although a 7.7 per cent rise in public transport patronage in 2008-2009 was hailed as impressive when announced late last year, a table at the back of a report presented to the Auckland Regional Transport Committee yesterday disclosed a far higher proportional leap in kilometres travelled.
The report, on progress towards 10-year targets set by the 2005 regional transport strategy, also shows road congestion has worsened during morning and inter-peak periods but has declined in evening rush hours.
Motorists lost an average of 53 seconds for every kilometre travelled between 7.30am and 9.30am over a week of last March, up from 45 seconds in 2008.
But they faced less frustration driving home, suffering an average delay of 33.6 seconds a km, down from 36 seconds in 2008.
Delays between 10am and noon of just under nine seconds a km were a slight deterioration from the 2008 survey result of 7.25 seconds.
The Auckland Regional Transport Authority reported 58.62 million subsidised passenger trips in 2008-09, covering 435.4 million km, at a cost to ratepayers and taxpayers through regional and Government subsidies of $143.5 million.
That was a 39.4 per cent leap from 312.4 million km in 2008, covered by $125.6 million of subsidies.
Although subsidies worked out at an average of $2.45c for each passenger, which was 5.9 per cent higher than in 2008, the cost for every km travelled by that passenger fell 17.6 per cent to 33c.
Rail passengers received the highest subsidy, an average of $5.90 a trip.
But longer average trips taken by train pushed the average cost for each passenger km down to 36c compared with 31c for bus trips and 61c for ferry travel.
Transport authority planning chief Peter Clark attributed much of the increase in km travelled to the advent of the $300 million Northern Busway as well as a continuing increase in rail patronage.
He told the Herald the average passenger rail trip extended over about 15km, compared with only three to four km on bus routes other than the busway.
But trips between Albany and Auckland via the busway covered about 18km.
PASSENGER MOVES
Trips in 2008-09 / km travelled
Bus 46.6 million / 302.6 million
Rail 7.65m / 124.7m
Ferry 4.4m / 8.1m
Total 58.62m / 435.4m