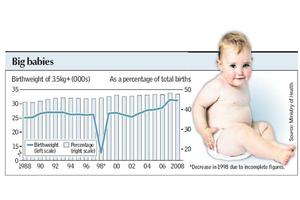 Kiwi babies are getting bigger - with 5kg newborns common in parts of the country.
Latest Health Ministry figures show 31,169, or 48 per cent, of babies born in 2008 weighed more than 3.5kg, the largest weight category recorded by officials. That's up from 44 per cent 20 years earlier.
Dr Claire McLintock, from National Women's Hospital said the biggest Kiwi newborn she had heard of weighed more than 6.7kg.
The lead clinician of obstetric medicine said one reason for the trend was that women were getting taller and bigger.
She said some women tended to have bigger babies with subsequent pregnancies, probably because the placenta "works better".
But a major reason was also the rise in gestational diabetes, which occurs when a pregnant woman has high levels of glucose in her blood because she can't produce enough insulin, according to Diabetes NZ.
That can cause the baby to have high glucose levels, leading them to make more insulin - and grow bigger.
Dr Alec Ekeroma, from Auckland's Middlemore Hospital, said babies delivered there to Pacific Island mothers often weighed 4.5kg-5kg. European newborns weighed an average of 3.5kg.
He advised mothers to watch their diets when pregnant as research has linked weight gain to large babies.