Auckland may be heading for Super City status but our waterfront pales in comparison with Wellington's.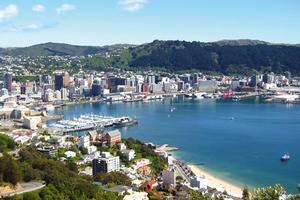 Aucklanders walking Wellington's waterfront might marvel at its metamorphosis - and lament the lack of change at home.
The Lambton harbour edge is a crowd-pleaser, from the northern end of Wellington's CBD and its Frank Kitts Park green oasis opposite Jervois Quay to Te Papa and the open lawn space of Waitangi Park, past the bikes and boats to the open southern golden stretch of Oriental Parade.
Wellington Waterfront's chief executive, Ian Pike, said his city's seafront had 35 national and international award-winning projects.
The area had been rated one of the best public spaces in New Zealand and Australia.
Meanwhile, look north and despair. Auckland's waterfront struggles to match Wellington's. It is mostly an ugly and still fairly industrial place, bristling with go-away red fences, unwelcoming signs, tall tanks and pipelines.
Apart from having developed a few pockets around Quay St, Princes Wharf and the Viaduct, the city is yet to exercise its vision and execute development of the waterfront in a united way.
The western Westhaven Marina end is gradually being vacated by industrial users so a transformation plan can be executed to make way for apartments, shops, offices and parks and public walkways.
But not all is going according to plan. It's taking much longer than it did in Wellington and in the past month Aucklanders learned their harbour edge had three new blights:
* A new 18m-tall, 25m-wide 100m-long cement plant by Bledisloe Wharf, described as "urban vandalism" by Heart of the City chief executive Alex Swney.
* A six-level Quay St parking building in front of the Scene apartment blocks by Britomart.
* A 52m (13 to 16-level) office block for Jellicoe St, the northern waterfront tip of Wynyard Quarter, described by Herald columnist Brian Rudman as "topped by a giant, meringue-shaped, seagull dropping".
Wellingtonians can walk their seafront boulevard with heads held high while Aucklanders are accused of dumping bad buildings on their best seafront land.
Wellingtonians have some natural advantages in planning their waterfront.
Their port is a shadow of its former self and does not compare with Ports of Auckland as a commercial force.
The city also inherited the land without charge from the old harbour board - unlike Auckland, where ownership is awkwardly split between Ports of Auckland (owned by the regional council) and the private sector, with the city council also closely involved.
It has been governed by a single council controlled organisation, Wellington Waterfront - supposedly similar to the organisation that will take over the Auckland waterfront under the Government's Super City plans.
Wellington Mayor Kerry Prendergast - perhaps happy to talk this week about something else apart from from the giant Wellywood sign which the council has approved for the airport - says her waterfront is an area which firmly puts a stamp on the entire city.
"It's the jewel in our crown," she boasts.
Five years ago, she was named the country's most powerful mayor, partly because of the waterfront transformation over a 15-year time frame.
"I'm surprised there hasn't been a public outcry," she says of the three latest developments in Auckland.
"In Wellington, doing something like that would be impossible."
Auckland Regional Council chairman Mike Lee strongly rejects this sort of criticism. He is annoyed about the lack of public attention given to the plan for the city's waterfront and the Sea+City project to redevelop the Tank Farm area as Wynyard Quarter.
Mr Lee says the plan has not received enough coverage, so people do not know the goal.
"Auckland's waterfront is already way better than Wellington's but I suspect many would disagree as we in Auckland tend to take all this for granted.
"If you go down to Auckland's waterfront on our numerous good days, especially when there is a cruise ship in as I did on a recent brilliant sunny Saturday morning, you sit on one of the public seats with a coffee watching all the tourists wander by, a cruise ship well-framed one side of this picture and on the other side a reefer boat, registered in Panama, being helped by a tugboat as it prepares to set sail back across the Pacific.
"In the middle of the picture there are busy ferries coming and going from the Hauraki Gulf islands. All around are cafes and restaurants with people sitting outside in the sun."
Alex Swney of Heart of the City is equally strong-minded but in the opposite direction.
He bemoans the carpark's location, while acknowledging the need for it, and regards the ASB's proposed volcano cone-topped headquarters as yet another failure.
He sees concrete evidence of a lack of waterfront vision and says urban planning needs to "join the dots" and avoid disaster and another waterfront cement plant.
He is most angry about the new cement works, which he says shifted a blot on the landscape out of the Tank Farm into the middle of the waterfront. "This is not just failing urban design 101. It is urban design vandalism."