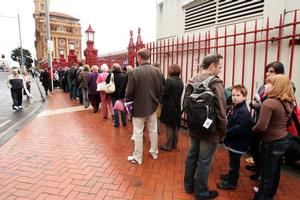 Public debate about the future of Queens Wharf and its merits as a party venue have obscured the fact Auckland needs an effective cruise ship terminal and the massive economic benefits such a terminal will generate, not just for the city but for all New Zealand.
Also lost has been the reality that such a terminal need only occupy less than a quarter of the available space on the wharf and much of this space can be on an upper level, as part of a multi-purpose structure.
Its cost will represent perhaps half of the overall spending being mooted to develop the wharf.
What is at stake is the ability for Auckland to become a transit terminal for the cruise industry in New Zealand, an activity that will add an estimated $125 million a year to the city's gross domestic product and see a similar amount distributed among the 14 other transit ports, or ports of call, around the country.
Auckland is the only port in New Zealand that has the capacity to be a transfer terminal, and with that status comes the multiple economic benefits, including jobs, that come from people passing through the airport, staying overnight in hotels, using taxis and buses, eating in restaurants and spending in shops.
Overseas cities which gain the most from the cruise industry, with Vancouver a good example, have a three-way investment in the needed infrastructure: an international airport, an efficient cruise terminal and a large conference centre.
Such facilities are needed to handle thousands of people at a time who want to have a relatively seamless arrival, hotel stay and departure, an experience that will see them return and recommend our city to others.
That is an important factor because many people are hooking on their cruising holidays. Logically that means having the ability to check in bags at a downtown venue and having heavier items checked directly through from aircraft to ship and vice versa.
The current season will see 118,000 passengers visit Auckland. Next year 132,000 visitors are projected, with cruise passengers making up the fourth largest sector of international arrivals.
The arrival of new cruise lines committing to Auckland means that the 2012 season will see more than 100 cruise ship visits, with total passengers exceeding 200,000 people, plus some 80,000 crew. Across New Zealand these numbers equate to around 600 port visits.
Auckland will really struggle to cope with this growth using its current port infrastructure.
The cruise lines want some planning certainty. As a city we must be able to assure them that we can provide adequate international airline capacity and suitable hotels. Cruise ships vary from three-star to five-star standards, so available hotel accommodation needs to match this need.
They also want suitable berths and terminals and the ability to turn ships around efficiently. What we currently offer is Queens Wharf, with its multiple inefficiencies and weather-related problems, and the non-purpose-built facility on Princes Wharf, which the cruise industry has now outgrown.
Queens Wharf can accommodate 310m vessels on its eastern side and accommodate all current and expected ships, with the exception of the QM2 at 350m (one of only five or six vessels in the world of this size).
However, these ships could be accommodated with the addition of a concrete dolphin (a concrete tower with a bollard on top) some 20m off the end of the wharf.
The economic prize available to Auckland and New Zealand is substantial, but there is a real risk that inaction may see it evaporate, along with all the interest and vibrancy that comes to the city by virtue of it having cruise ships anchored at the foot of Queen St, something that is a distinct advantage in terms of the passenger experience the city can offer.
A terminal at the foot of Queen St also provides an easy link with ferry, bus and rail services, with benefits of that including changing the economics of a rail link between Britomart station and the airport.
As a terminal option, Bledisloe Wharf fails to meet that objective. It can also be discounted because its use as a terminal will require the demolition of Marsden Wharf, overcoming the fact that it is 50m shorter than Queens Wharf and that substantial hard rock blasting will be required to achieve the required depth at the Quay St end of the wharf.
Its use for cruise ships will also impact on the working needs of Ports of Auckland.
The cruising industry people that I deal with often make the point that cruising is an internationally transferable business and that a country is either cruise-friendly or it's not.
The issue of friendliness aside, some of these decision-makers may be starting to wonder whether Auckland is really interested in securing their ongoing business, given the debate over the Queens Wharf terminal is now some three years' old.
* Craig Harris is chairman of Cruise New Zealand, which markets NZ as a cruise destination to shipping lines.