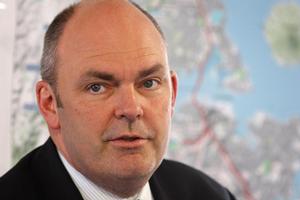 Universities and polytechs will have funding cuts if their students don't pass their courses, Tertiary Education Minister Steven Joyce said yesterday.
But it has left him open to claims that the move will create incentives for them to pass students who don't deserve it, or that courses will get easier.
The new moves are in addition to his previous announcement that students who fail will not qualify for ongoing student loans.
Mr Joyce said that linking a tertiary institution's funding to its student performance would be low to start with to give people time to adjust.
"But linking some funding directly to academic performance is on its way. I'm confident that this approach will encourage institutions to provide more support for their students and achieve better results for individual students and the country."
Mr Joyce said between 5 and 10 per cent of Government funding for tertiary providers would be linked to student performance and dropout rates.
Educational performance would be measured using indicators such as successful course completion, qualification completion and student progression.
Mr Joyce told the Herald the move was designed to improve educational outcomes, not save money, and any money saved would be ploughed back into the sector. Some courses had 30 per cent completion rates, he said.
However, the New Zealand Union of Students' Association said the performance-linked funding could jeopardise students' opportunity to get into university.
Association co-president Pene Delaney said: "This policy change could actively work against the Government's own priorities to get more young people and Maori and Pasifika students into higher education."
University of Auckland vice-chancellor Stuart McCutcheon said the policy still needed to be looked at as there were underlying consequences the Government had possibly overlooked.
"The obvious is making it harder for students to get into university - upping the standards," Mr McCutcheon said.
"The other, of course, is lowering the pass rate and making it easier for students to pass - [both] unintentional consequences the Government may not have looked at."
Performance-linked funding did have the potential to improve a university's work towards improving student support academically, he said.
But it also had the potential to break a university. "Systems like these where there is no new money to give out to institutions, well the institution that performs badly will be penalised.
"How then will the institutions that are penalised improve?"
Mr Joyce, who was made Tertiary Education Minister in January, told a business audience in Wellington yesterday he had three short-term goals: to tackle course completion rates; ensure qualifications were meaningful and to ensure student support money was not wasted.
The proportion of funding affected would be kept low at the start but could increase over time. He told journalists 90 to 95 per cent of funding would still be based on enrolments.
He also reiterated his policy that students would not get automatic access to ongoing interest-free loans.
Labour's tertiary education spokeswoman Maryan Street said linking performance with funding would create the wrong incentives.
"This will apply extraordinary pressure to staff to get students across the line and that means that either our tertiary institutions will start offering less challenging courses or they will compromise on standards to get people [to pass] if funding is dependent on it."
Mr Joyce also intends to see the 6000 qualifications streamlined.
Funding switch:
* NZ spends $4 billion a year on tertiary education, including student support.
* Tertiary institution funding is based on enrolments at present.
* Up to 10 per cent of funding will be based on student performance from 2012.
* Access to student loans will depend on student performance.
* Review of 6000 qualifications.
- additional reporting Vaimoana Tapaleao