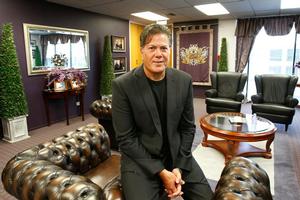 Destiny Church leader Brian Tamaki yesterday called on members to be strong in their faith, after a week of publicity about the church's Brisbane pastor quitting the congregation and its tithing or donations policy.
But in an interview with the Herald after the Auckland service, he denied he felt up against it after the onslaught of publicity and criticism.
"God called me for this ... this is just part of the call of my life," said Bishop Tamaki, his voice hoarse after nearly two hours' preaching at the base church in Allright Place, Mt Wellington.
Before heading off on a 90-minute drive to another service at Hamilton, he said tithing demands on church members to raise $3 million by Labour Weekend were nothing different from those of other churches.
"It's not realised that we are a young movement of only 12 years, not as longstanding as other churches, so we are still at a building stage. We have grown quite quickly and now we have a school of 200 kids coming to it and 400 on the waiting list.
"We estimate that Destiny Church has 1400 5-year-olds that will be ready to come to this school in five years, which means we have to build an extra eight classrooms.
"We just need to finance our vision."
He said he was not hurt by criticism from former members.
"It's not about me. It's all about what God wants and his purpose."
Publicity had helped, he said. The church website's live streaming of a service on Wednesday had drawn 15,000 hits compared with an average 8000 or 9000.
It was an opportunity to preach Christ's message to give a donation, he said.
"I have been preaching for 25 years and my message about tithes and offerings has not changed."
Offerings of $2 coins at services went towards the cost of the church producing and securing broadcast time on TV3 from 6am to 6.30am on Wednesdays from March 24.
In his sermon, he said he found many parallels with Destiny Church in the Bible, particularly the stories of Jehoshaphat, King of Judah, who defeated three armies by the strength of his faith, and Joseph's story where nastiness and jealousy were turned against his enemies.
Joseph had gone through "the junk and the rubbish ... similar to what's happening to us."
On the Brisbane walkout by Pastor Andrew Stock, Bishop Tamaki said the discussion it provoked was good and the church there was recovering under new appointments, Phil and Paddy Kingi, from Rotorua.
He planned to join his wife, Hannah, a pastor who was in Brisbane, "very soon".
Core members across the nation were understanding, he said.
A statement by Destiny spokesman Richie Lewis said the church's 125 Brisbane members enjoyed their first service under new leadership yesterday.
"We're very happy with how things have unfolded."