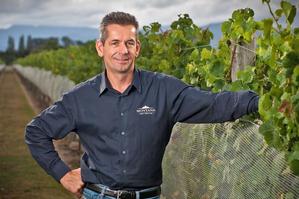 In a world awash with cheap sauvignon blanc, why on Earth is the largest wine company in New Zealand creating a new top-shelf version at a price so high it's never been seen before?
"The aim is to make the opposite of a big fruit bomb sauvignon blanc that tastes impressive and explosive initially, then falls over faster in the bottle than the more restrained sauvignon styles," Montana's new chief winemaker, Patrick Materman, told a small group of wine writers in Marlborough this week.
The first batch of trial wines for the new project were made from the 2009 vintage.
"The idea was to bottle about 10 cases, watch their evolution, and from 2010 we plan to do it for real to get a finished wine, which will be released in about July 2012," says Mr Materman.
He expects quantities will be relatively small.
And the price, which has yet to be fixed, will be at a level that he says "has not been seen before. I don't think Marlborough sauvignon blanc has realised the price point that it should".
"If you look at the benchmark wines of the world and the prices those wines command, it's always in the order of $80 to $100 a bottle, and the wines age well over time," says Mr Materman.
"We haven't decided on a price that high but we need to hold back on that decision until closer to the time.
"On both the price and the ageability, we've never really done all we can with New Zealand sauvignon blanc.
"I've always questioned why we couldn't drive a higher price and, with both wine quality and image, create a higher demand," he says.
The Montana sauvignon blanc project is in conjunction with French sauvignon blanc expert Denis Dubourdieu.
If successful, the project will go some way to stemming the downward flow of New Zealand sauvignon blanc's recent price erosion in global export markets.
A QUICK WORD ... WITH PATRICK MATERMAN
Whose idea was it to make a top New Zealand sauvignon blanc?
Geoff [Clark, the previous Montana chief winemaker] and I drove it from the production point of view rather than from the marketing side.
New wine research has given us a better understanding of what drives sauvignon blanc's flavours and we want to create a wine that ages well and sets a new benchmark in quality.
What market is this wine aimed at?
Fine-wine stores and restaurants. It's definitely a hand-sell proposition.
How many different vineyards are grapes being drawn from?
Fourteen different vineyard sites were used for the 2009 prototype, which were broken down into trials in both the vineyard and winery. So we ended up with well over 40 components.
In the future I think it'll be narrowed down.
What is the role of the Awatere Valley in the new wine?
The sauvignon blancs from Awatere do seem to age well, which is to do with the acidity and pH levels of grapes there.
It will play an important part in the blend, as will grapes from the Brancott Estate, which add weight to white wine.
What's the ETA on the wine?
Mid-2012 with a wine from the 2010 vintage. We're trying to get a bit of bottle age into the wine when it first pours on to the shelves, to prove our point about longevity.
SAVVY FACTS
* Sauvignon blanc is the most planted grape in New Zealand with 15,383 producing hectares of land nationwide, mostly in Marlborough - the country's largest wine region.
* Sauvignon blanc has grown from 3685 producing hectares in 2002 and is forecast to remain in the number one position in New Zealand's national vineyard area.
* Top-priced New Zealand sauvignon blancs are made in small quantities and sold as Cloudy Bay Te Koko and Dog Point Section 94.