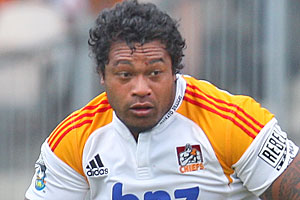 The Chiefs Super 14 franchise will wait for Hamilton police to decide what action, if any, they will take against former All Black Sione Lauaki.
CEO Gary Dawson said today that while he was aware of Lauaki's involvement in an off-field incident, he would not make any further comment until further details were received from police.
Senior Sergeant Greg Dunn said the incident took place at a central city bar in the early hours of the morning and that nobody was subsequently arrested. However, he said a "28-year-old professional rugby player" had voluntarily returned to the Hamilton Central police station to be interviewed.
"The complainant is still to be formally interviewed at this stage and it is too early to say what if any charges may result from that," Senior Sergeant Dunn said in a statement.
Last year Lauaki, a former All Black, was made to undergo an anger management course after he pleaded guilty to property damage charges stemming from a New Year's Day incident at an Auckland motel.
In 2006, he was offered police diversion after admitting assaulting a Hamilton security officer and later that year hit a rival player following an argument outside a bar.
Tongan-born Lauaki has been out of favour with the All Blacks selectors since 2008 but has been a key member of the Chiefs, for whom he has played 66 Super rugby matches.
Chiefs coach Ian Foster raised eyebrows when he named Lauaki captain for the team's first three matches this season in the absence of usual skipper Mils Muliaina.
However, injury ruled him out of the first match and he is currently undergoing a two-match suspension for a dangerous tackle during their second match, the 72-65 defeat of the Lions in Johannesburg last month.
- NZPA, NZ HERALD ONLINE