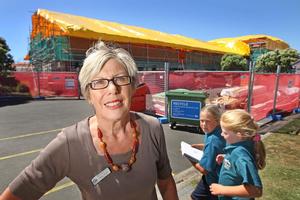 A primary school with a long-running problem of rotten timber and faulty cladding will be almost completely demolished in the worst leaky-school case in the country.
Tahatai Coast School in Papamoa has begun a rebuilding project which is expected to take up to three years and cost $7 million.
Principal Ian Leckie said not a single building at the modern school was unaffected by the rot.
Twelve of 33 classrooms will be demolished, with the library, a special-needs unit and teacher resource rooms. Classrooms that are not demolished will be completely refitted.
One block of four rooms requires a reframe and recladding inside and out.
The roofs on both main blocks are being removed and the frames will be remade.
Mr Leckie said the biggest disappointment was the closure of the school hall, which meant the 650 pupils could rarely gather as a single group.
Ten prefabs have been brought to the ground to create room for classes.
Tahatai Coast School, which opened in 1996, was built with flawed exterior cladding Harditex. Leaks appeared within its first year of operation.
Mr Leckie said the problem had been identified when he arrived in 2005, but the full extent of the rot was not uncovered until Ministry of Education investigations two years ago.
He said the ministry would pursue legal action where it was able to.
This could include litigation against the local council, the construction company, the material suppliers, project managers, or the architect.
Bay of Plenty MP Tony Ryall said it was the worst-affected school in the country, and one of seven Tauranga schools to suffer from serious leaks.
Deputy principal Jenny Griggs says the children have been resilient while the school has crumbled around them.
Almost every classroom has makeshift supports, high levels of moisture in the walls and temporary gutters to divert leaks. Nests of ants have also grown under the damp floorboards.
Students have been shuffled between the original classrooms and prefabs, and have had to endure construction noise during class.
"The school has been cut in half," says Ms Griggs.
"The spirit of the place has taken a bit of a knock, but the kids have been great ... They just get on with it."