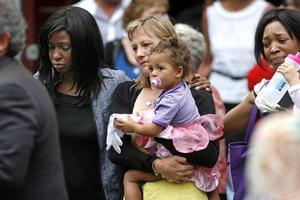 A Nelson woman who lost a husband and two daughters in January's earthquake in Haiti helped save not only her own youngest daughter, but also two other people in the aftermath of the quake, mourners have heard.
Emily Sanson-Rejouis yesterday said she felt defeated by life and heart-broken, but gained strength from her "miracle" surviving daughter Alyahna, 2.
Hundreds who gathered for a funeral service at Nelson Cathedral heard that Mrs Sanson-Rejouis' husband Emmanuel, 39, heroically gave his own life so that Alyahna, 2, could live when the hotel in Port-au-Prince where they were staying collapsed.
He was unable to save the lives of their two older daughters, Kofie-Jade, 5, and Zenzie, 3, and Alyahna still lay trapped.
Despite search and rescue teams saying it was too difficult and dangerous to attempt a rescue, Mrs Sanson-Rejouis persuaded a group of young men to help her, and between them worked with their hands to save the lives of three people, her father Roger Sanson said.
"And one of those lives is Alyahna," he said, without revealing who the other two people were.
"How you managed to do what you did on that night and next day, most of us will never know."
To her late husband, Mrs Sanson-Rejouis said: "Know that the last thing we did together was to save Alyahna.
"I pledge to you, as you would have wanted, that I find the strength to rise like a phoenix from the ashes. I will not give up."
Alyahna, protected in the arms of her papa after the quake, was given a chance for a second birth, she said. She wanted to make sure Alyahna grew up to know her life story.
"I find my voice through the grace of Alyahna, the determination of Zenzie, the compassion of Kofie and the strength and passion of Emmanuel."
Mrs Sanson-Rejouis said she would remember Kofie-Jade as her princess and bejewelled fairy, dancing around the room with a mesmerising smile.
"You dreamed of growing up, and marrying your Prince Jasper, and like me, having a village of children to nurture. You delighted in practising your mothering skills on Zenzie and Alyahna."
Zenzie was a free spirit, with an "Afro crown" and mischievous twinkling eyes. "You saw no barriers. No adult-made constraints. You wanted no banana cake, or a chocolate cake, but a purple cake for your birthday. You sang Michael Jackson's Beat It with all your heart."
Emmanuel Rejouis was remembered as a man who gave his all to helping the disadvantaged throughout the world in his roles with the United Nations.
But his heart lay in helping lift the country of his birth, and this is why he had returned to Haiti. Mrs Sanson-Rejouis said she fell deeply under his spell from the moment they met. "You lived by the motto - if you don't dream big, you will never know your full potential."