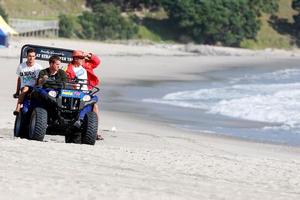 Tsunami warnings look to be cancelled as beach-goers who waited all day outside the water start heading home.
Civil Defence downgraded its tsunami warning to an advisory and lifeguards are waiting on police to make a call on warning levels.
Some surfers and fishermen had defied warnings all afternoon, taking to seas even as coastguards warned of tsunami surges, but most waited on boardwalks and other areas around the beaches, said Mount Maunganui patrol captain Danielle Shepherd.
"It would have been a busy day had these [warnings] not been in place," she said.
Many people had arrived in the morning but left after learning of the tsunami. They slowly returned in the afternoon hopeful but stayed out of the water even as the odd surfer went out to a good surf.
Now they were set to go home, Ms Shepherd said.
"On a Sunday people tend to leave around four o'clock to get ready for school or [work]."
There had been reports of strong currents in the water around the country and lifeguards had been telling people to stay out, and most were cooperative, she said.
But some had not cared or thought they were capable, Ms Shepherd said.
Meanwhile, locals in Hicks Bay, East Cape, were diving into the sea for paua, kina and crayfish, and fishermen had been back on the rocks by noon, said Hicks Bay Motel Lodge owner John Campbell.
More than 100 of them had earlier abandoned their homes to watch the tsunami arrive from higher ground, expecting the surges that had hit the Chatham Islands to arrive, Mr Campbell said.
There had been minor fluctuations and one surge swept 20 metres up a rivermouth, but locals were not convinced there would be any further danger, he said.
Civil Defence emergency management continued to report a 0.3-metre surge at East Cape in the early afternoon.
In Pitt Island, surges had calmed down but caution remained, said Flowerpot Lodge owner Brent Mallinson.
At its peak, sea levels had fluctuated by two metres every two minutes, Mr Mallinson said.
"It wasn't scary, but we could see there was a lot of water moving," he said.
There had been no damage but people were still staying out of the water, he said.
Port of Auckland operations resumed after a 30-minute shut down between 10.45am and 11.15am, and commercial vessels - including a 2000-passenger cruise ship - returned to the port after being evacuated to deep harbour.
Cruise ship Dawn Princess, which has a capacity of 1990 passengers, and other large commercial vessels had been moved to deep water east of Fergusson and outside Rangitoto Island in the Hauraki Gulf.
Dawn Princess passengers had been dropped off on shore.
Port spokeswoman Catherine Etheredge said after discussions with civil defence and the harbourmaster, it had been decided ships could return.
Port services general manager Wayne Mills said the tsunami threat had not been great but a cautious approach was taken.
Port operations were shut down for half an hour between 10.45am and 11.15am.
Auckland ferries were also called off or delayed between 10am and 11am.
Waiheke ferries at 10am and harbour cruises at 10.30am were among cancellations announced at Auckland's ferry terminal.
Boaties near Waiheke Island reported they had been approached by authorities to head out to open seas.
Onetangi Beach Races on Waiheke Island, which had been scheduled for today, has been postponed until March 14.
In Wellington, a mass nude photo shoot at Breaker Bay was postponed.
City council emergency preparedness manager Fred Mecoy said the photoshoot, in which more than 100 people were expected to take part, had been cancelled due to the "obvious concerns we have about safety".
Dragon boat racing event on Wellington Harbour was also cancelled as a safety precaution.
A police vessel in Wellington harbour and boats in Porirua harbour had been evacuated from their moorings, said group controller Rian Van Schalkwyk.
In Whakatane, coastal campsites were told to evacuate and a welfare centre set up at the town's War Memorial Hall.