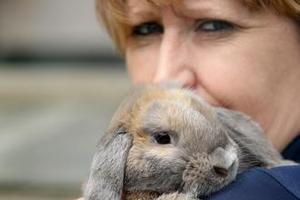 A man will appear in court today charged with animal cruelty after apparently using a lop-eared rabbit to threaten passersby on Auckland's Queen St.
Police say the 53-year-old stole the bunny - which the SPCA has subsequently named Larry - and swung it by its ears at pedestrians, while verbally abusing them.
A security guard phoned police after seeing the man and a friend with the male, fawn-coloured animal.
When officers arrived, the man allegedly tried to hide the rabbit under his shirt. Police had to wrestle the rabbit from him, and the security guard held it as the man was handcuffed.
The man then allegedly spat at police.
He was due to appear in Auckland District Court today charged with cruelty to an animal, assaulting police and disorderly behaviour.
Constable Julian Donaldson said the man wasn't homeless, but could often be found hanging around the streets of Auckland's CBD.
SPCA inspector Vicki Border said the rabbit was checked by a veterinarian at Mangere headquarters, but appeared to have escaped uninjured.
"He was in a very stressful state. It's very remarkable he's in one piece considering what happened."
It was now settled in a hutch on its own at the SPCA waiting for its owners to collect it.
Ms Border said the rabbit was most probably somebody's pet as it appeared to have been de-sexed and the lop-eared breed was not often found in the wild.
The animal was not micro-chipped.
The rabbit was an adult but the SPCA was unsure of its age.
* Anyone with information about the rabbit should call the Auckland downtown police station on 09 379 4500 or Vicki Border at the SPCA on 09 256 7300 x867.