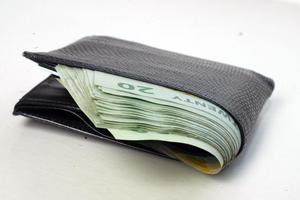 Three in five female New Zealanders and just over half of Kiwi men say the global financial crisis has made them feel financially stressed but most don't plan to change the way they spend or invest, a survey by a financial industry lobby group has found.
Financial Service Institute of Australasia chief executive Martin Fahy said although New Zealand's economy was over the worst, Kiwis were still feeling the after-effects of the recession.
"The sudden collapse of finance companies, the significant loss incurred by investors and the notable rise in unemployment has left many New Zealanders grappling with spiralling levels of household debt, inadequate savings and the prospect of an uncertain environment."
Dr Fahy said women and those in the baby-boomer generation appeared to be the most affected by the financial crisis.
Two-thirds of female respondents and 55 per cent of male respondents to the survey said they were feeling financially stressed.
Only 8 per cent of those questioned said they were better off since the financial crisis with lower taxes and interest rates, and 41 per cent said they were in the same position.
A further 38 per cent said they felt slightly worse off than a year ago and 12 per cent said they were significantly worse off.
Dr Fahy said the crisis had hit the number of people expecting to retire at an early age.
A year ago the highest number of Kiwis, 36 per cent, expected to retire between 60 and 65 but now the highest number expect to retire somewhere between 66 and 70 years old.
Many in older age-groups now did not believe New Zealand Superannuation combined with their KiwiSaver would be enough for them to retire comfortably on.
But despite the high levels of financial stress and uncertain retirement many had not changed their habits.
The survey found 23 per cent were still saving nothing from their income while appetite for credit remains high.
Of the 81 per cent holding a credit card, 19 per cent admitted they sometimes pay interest while 26 per cent said they usually end up paying interest on their credit card debt.
But 15 per cent still did not know the amount of interest charged by their credit card provider for that debt, particularly women, and those who are single.
Dr Fahy said the Government needed to do more to encourage saving and promote financial literacy, including an advertising campaign that could help fight against the strong commercial branding constantly bombarding Kiwis on their television screens.
Last week the Government agreed to use better co-ordination around financial literacy but said it was not keen on a marketing campaign, despite a recommendation from the Capital Markets Development Taskforce.
Dr Fahy said research from the Melbourne Centre of Financial Studies suggested people needed to be saving at least 8 per cent of their income to enjoy a comfortable retirement.
At the moment most people in KiwiSaver put in 4 per cent and then receive another 2 per cent from their employer and up to $1052 a year from the Government matched to their contribution.
Dr Fahy said New Zealand's ageing population meant the current superannuation entitlement age would become unsustainable and the rising cost of superannuation and healthcare meant people should no longer rely on taxes paid during their lifetime to fund superannuation or free healthcare.
The survey interviewed 500 people.