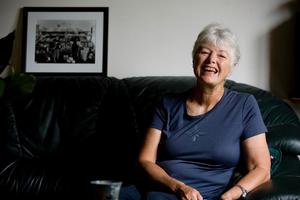 As a parliamentarian, Jeanette Fitzsimons focused on big ideas rather than petty politics and thought about long-term issues - rare for a politician.
Her retirement provides a timely opportunity to reflect on how far New Zealand has come in embracing environmental values and the important part she has played in that transformation.
Jeanette has been in many ways a perfect role model for aspiring Greens and for all politicians. She has never indulged in personal abuse, so rampant among too many of our parliamentarians. She has promoted her beliefs and values and done that with a quiet but steely resolve.
Jeanette has been consistently ahead of her time, championing issues such as energy efficiency and climate change that later became mainstream.
In simple terms, her philosophy is that there are environmental limits to growth and we need to manage the planet with that big idea firmly in mind.
This proposition is epitomised by the water crisis in Canterbury, where water available for irrigation has been over-allocated and Environment Canterbury may pay the cost by being sacked.
With real-life examples like these, Jeanette helped bring the word sustainability into our lexicon - even if more recently the Government has purged it from use.
She says that economic growth cannot be measured solely by the size of the economy but by the quality of life people enjoy. New Zealand measures up well according to those alternative rankings.
We need to be wary of sacrificing our great quality of life for crude GDP gains. We can mine our national parks, allow more dirty dairying, increase air and water pollution, encourage rampant urban sprawl, all of which might improve our GDP in the short term - but at a huge environmental cost.
She has reminded us of the interests of future generations, arguing that we must leave the world in as good a state as we found it.
The thing that I most admire about her career is her constancy and persistence. She joined the Values Party in 1974. By 1980, she was teaching environmental studies at the University of Auckland and was a director of EDS for a time. She helped build the Green Party into New Zealand's third-largest party.
She captured the secret of her success in a speech last year after the Greens won Government support for the nationwide home insulation programme.
"We have won it not because we had the power, or the numbers, or sucked up to anyone, or compromised our principles and supported something that was wrong; we won it simply because of the power of our ideas and our ability to build consensus on all sides of the House quite outside political ideology. ... We have reached the stage where there is no one left in the country who doesn't think it [insulation] is a good idea."
The Government would be well-advised to recruit her to a position where she can put her enormous knowledge and expertise to good use. She is a precious resource.
* Gary Taylor is with the Environmental Defence Society www.eds.org.nz.