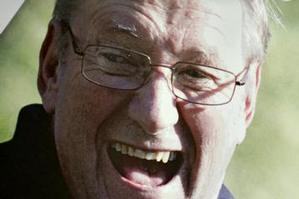 Police hunting the driver of a white ute involved in the hit-and-run death of Auckland doctor Graham Robinson say they are following up new and "tangible" information.
The man first on the scene after Robinson came off his bike has spoken exclusively about what he saw that day.
Robinson, a GP from Mairangi Bay, was cycling south on Peak Rd, near Helensville, on October 14 when a white Toyota Hilux ute veered at him and then drove off.
It is unclear if the ute hit Robinson but the driver's actions caused the 62-year-old to come off his bike.
Dr Peter Kalinowski was cycling behind Robinson and rushed to give him medical attention. But Robinson, who had a severe head injury, died in hospital the next day.
The Herald on Sunday revealed in-depth details of the police investigation into Robinson's death last week.
Since then police have received four phone calls with people offering information on the driver of the ute. Orewa Detective Mark Palma said three of the calls were "promising".
"Those people had specific information and were all plausible and possible," he said.
"It is people that have heard something ... tangible information."
A police witness who came across the scene moments after Robinson's fatal fall described what he saw.
The man, who did not want to be named, said: "I came around the corner and down the hill and saw a chap crouched over his mate. [Robinson] was in the middle of the road. As [Kalinowski] heard the car come around the corner, he stuck his hand up and I stopped," he said.
"I got out of the car and he told me he was a doctor and asked me to call an ambulance. I could hear [Robinson] groaning, he was in serious pain."
The man said he could see Robinson had severe injuries all down one side of his body.
"His mate appeared to be taking his pulse and looking for vital signs whilst on the phone ...
"He walked up the hill a couple of times and made some phone calls."
Soon other people started to arrive at the scene.
"Three ladies stopped and were running off getting towels and things to make the man more comfortable. When Kalinowski was talking to me he said a car came by and knocked his mate off, I thought, 'Gee that's appalling'. I picked up his bike but I didn't see any damage."
The man did not see the white ute. He gave his statement to police about what he saw several weeks after Robinson's death.
Anyone with information aboutthe driver of the white ute should contact Detective Palma at the Orewa police station on 09 426 4555.