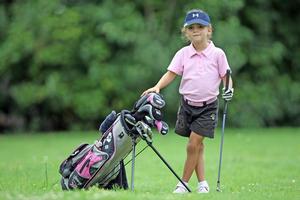 She weighs 19kg and stands just 1.12m in her pink shoes, but 6-year-old Silvia Brunotti can already hit a golf ball 115m off the men's tees.
On the face of it, Silvia is a normal little girl - she loves the beach and playing on monkey bars.
But put a sawn-off club in the Italian-born tot's tiny hands and watch the bilingual Kiwi humble men and women who have been playing all their lives.
The youngster has quite a reputation at her local course - the Lakes in Dairy Flat, north of Auckland - where she boasts a 9-hole personal best of 35.
Tiger Woods posted 48 at a similar age, albeit over the longer Navy Golf Club in Cypress, California.
"I've never seen anyone better than Silvia at that age," says the 9-handicapper's coach, Craig Dixon, who also tutored another New Zealand child prodigy, Jack Green, who placed third equal in the 6-year-old division at the junior world championships in 2007.
"Silvia is amazing - she's like a mini touring professional."
Since she began tournament play last year, Silvia's freakish short game has won her a slew of podium places on New Zealand Golf's Junior Tiger calendar and the Fairway Flyers' roster.
Flushed with that success against players twice her size and up to five years older, proud clothing designer dad Claudio Brunotti, who brought his family to New Zealand from Sardinia five years ago, is spending $15,000 on pursuing junior golf's Holy Grail.
In early July, he and Silvia are off to the US for the world championships in San Diego, the world masters in Las Vegas and the US Kids Golf World Championship at North Carolina's renowned Pinehurst layout in August.
The trip will not be all work, as Silvia will also go to Disneyland.
"I want to give her a chance now while she is little - and then maybe she has the motivation to keep going," said Mr Brunotti, whose internet research shows Silvia is already ahead of her overseas competition.
The only hiccup in his master plan is gaining access to challenging courses near his Milford home.
With many New Zealand clubs adopting strict R12 fairway access - his neighbouring Pupuke track has a discretionary rule for gifted youngsters - a frustrated Mr Brunotti wants to see more flexibility for players with Silvia's ability.
Pressure to perform, though, is not something Silvia has a concept of yet. Her dad says it's more a case of keeping her boundless energy focused on making the next shot.
But she does have an inkling of where all this could be heading.
"I want a thousand chauffeurs," beams Silvia, who often has to be coaxed off the greens, even after up to 16 hours of weekly practice.
"And I like Tiger's house - he's got an enormous pool and the beach is close to it."
Just three years after picking up a club and copying her father's swing in the backyard, Silvia also has her hometown idol in her sights: "My dad said we're going to play a competition - I'm so going to beat my dad."
Dad, however, is already waving the white flag. "I can't beat her any more - her chipping and putting are just too good."