The powers that be are growing anxious over the lack of inspiring design ideas for Queens Wharf.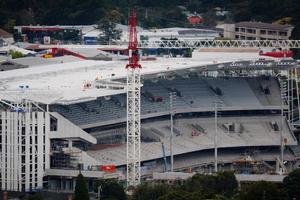 Hamish Keith is right. The most expensive and clearly favoured plan for Queens Wharf is "a pile of slab-and-slice knee-jerk architecture with all the urban design values of a rural boat ramp".
What's wrong with Auckland? At long last we've been given the big wide wharf at the bottom of Queen St and we don't know what to do with it. Somewhere in the city there must be someone with a clear sight of what would be right for this magnificent platform, the city's front deck.
A hasty design contest last year produced nothing breathtaking and the latest options are not much better. But powerful people are getting anxious. The Government and the Regional Council bought the wharf for fun and festivities during the Rugby World Cup just 19 months away.
You and I and most of Auckland probably imagine it wouldn't be very hard to make Queens Wharf a lot of fun during the World Cup, provided the weather is kinder than it was last September-October.
We could lay a pleasant pattern of open spaces, some timbered, some carpeted in artificial grass, with wide boardwalks around the perimeter. With a sound stage, several big screens, marquees for bars and cafes, strategically placed coffee carts, food barrows and plenty of deck furniture we're in business for the World Cup.
We could think about the wharf's permanent architecture later. And when we come to think of it, we might decide to keep it much as it was for the Cup. It would need only one new fixture for Auckland's climate: a canopy for shelter and shade over a good proportion of the wharf.
There was an attractive one published last year. It looked like a scroll or a wave flowing high above the length of the wharf. That could be the distinctive feature the location deserves.
It would not be the "iconic" building but no matter; the waterfront has a better site for that. Public development is slowly moving west from the Viaduct to Wynyard Wharf and the tank farm, which is scheduled to forsake that splendid site in 20 years or so. The western reclamation extends further into the Waitemata than Queens Wharf, on a wider expanse of harbour. That is the promontory for Auckland's icon once somebody comes up with an inspired design.
Before a building can be well designed it needs a purpose. Without a necessary function, not a contrived one, a building doesn't work. Nobody goes there more than once. It soon looks lost and dead.
The trouble with the new $97 million design for Queens Wharf is that it would be dominated by a confused building. Principally it is to be a cruise ship terminal. The wharf is a fine place for the ships to tie up but they don't need a building.
My only cruise was on the grandest of them all, Queen Mary 2, and we embarked at Honolulu from a nondescript cargo quay. None of the seasoned cruisers seemed to find that unusual.
When cruise ships call their passengers go away on bus tours or walk around town. They would enjoy disembarking at the Queens Wharf we could equip for the World Cup and would appreciate a permanent canopy for their walk to waiting buses. That is all they need; they're not obliged to spend hours in terminals like air travellers.
The double-level cruise terminal suggested for the wharf would be a long room for indeterminate purposes and an elevated public area over commercial and cruise ship-servicing space. Above it all there seems to be a translucent canopy a bit like the one I've described.
Most appealing, the end of the wharf has been cut away for wide steps into the water. People love sitting on waterfront steps. That bit of the design, and the open spaces, would be well used - unless a big slab of lifeless architecture stands in everybody's way.
The problem for Queens Wharf is called "legacy", a word heard frequently from organisers of the Rugby World Cup and the Government's assigned minister Murray McCully. When the cup is over they want to have something permanent to show for the cost to taxpayers.
The new Eden Park brings a gleam to the eye of Martin Sneddon every time he mentions it. He says we are going to love that. I can believe it. You don't have to go further than Sydney or Melbourne to realise what a modern sports stadium can be.
I can't believe we'd treasure a building at Queens Wharf that looks nothing better than a big bus stop.
The anxious need to be assured the wharf's public acquisition will be legacy enough.