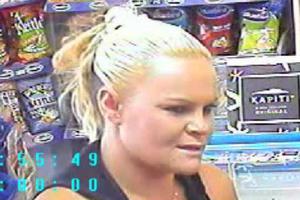 A body discovered late yesterday and believed to be that of missing Christchurch mother Vanessa Pickering was found about 300m down a steep hillside on Banks Peninsula.
Police would not confirm that it was the 27-year-old's body in the Godley Head area because they had still "not got good visuals on it".
But inquiry head Detective Senior Sergeant Virginia Le Bas said the missing person case had now become a homicide investigation.
Police are carrying out a scene examination at the Godley Head Reserve and a post-mortem examination will be carried out this afternoon.
Ms Pickering had not been seen since Monday. The next night, her daughter was found wandering alone in a paddock north of Christchurch.
Ms Le Bas said information provided to the police led them to the body on farmland.
It was in an area with several running and mountain-bike tracks and surrounded by brush and livestock.
She could not comment on whether the body was exposed or clothed.
The body would stay where it was and the area would remain closed to the public.
Earlier yesterday, a 40-year-old man questioned in relation to Ms Pickering's disappearance was charged with assault with intent to commit sexual violation, sexual violation, unlawful detention and assault on a child.
He was denied name suppression by Judge Michael Crosbie in the Christchurch District Court. But lawyer Serina Bailey said she would appeal against that decision, so temporary suppression was granted until 5pm today to allow the appeal to be lodged.
The man's name and photo had been widely published after his arrest.
Before the discovery of the body, Ms Pickering's partner, identified only as Kaade, made an emotional plea for her return.
"Our little girl has said several times that she just wants her mum back, as do we all," said Kaade.
In a statement read by police yesterday, he said: "I would like to ask Vanessa to please get in contact and let us know you are okay. Everyone involved is very worried about you."
A woman whose daughter is friends with Ms Pickering's child described the victim as a "fantastic mum" who "would have done anything for her little girl".
A former employer told the Herald Ms Pickering was the "nicest person in the world" and an "amazing mum".