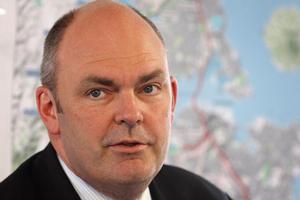 The Government is looking at forcing taxi companies to install cameras or screens in cars after the murder of taxi driver Hiren Mohini.
Transport Minister Stephen Joyce met with industry representatives today to talk about security regulations in taxis. He said that authorities would be looking to Australia to see what security measures were effective.
"Sadly we are in an environment in New Zealand now where taxi drivers are less safe than they were. It is not something anybody would wish for but we have to look very closely at mandating a higher level of safety in taxis - particularly those working at night," Mr Joyce said.
A report from transport authorities is due back to the Minister in four weeks.
Mr Mohini, a 39-year-old father of two young girls, was stabbed to death by a passenger in the Auckland suburb of Mt Eden on January 31.
Mr Joyce said any new safety requirements would be funded by the taxi industry.
Auckland Co-op Taxi general manager said regardless of the Government's decision, his company would be offering security screens to drivers. He said 48 drivers who worked night shifts had already put their names down to have security screens installed.
Mr White said drivers were scared and anxious about safety after Mr Mohini's death.
"This was a needless violent act and shouldn't happen to a bloke who is out earning a living for his family," Mr White said.
Taxi Federation executive director Tim Reddish said there was support for regulations.
"I think there's a realisation that I could be next. That's really what's bought it home. Cab drivers have for a long time been in denial that it could actually happen to them," Mr Reddish said.
He said safety screens in Australia had proved unpopular because they made it harder for drivers and passengers to talk to each other and interfered with air conditioning.
But he said drivers of Indian origin had begun installing the screens after the recent racist attacks in Melbourne.
Mr Reddish said cameras installed in Queensland taxis had reduced attacks on drivers by about 70 per cent. He said Queensland taxis had one camera mounted outside to film a passenger getting into the car, another covered the backseat and the third filmed the front seat.
He said there were strict protocols about who could look at the images captured by taxi companies.
Mr Joyce said screens and cameras could cost taxi companies $3000 to install in each of the 7000 cars around New Zealand. Mr Reddish said the new safety measures could add about 30 cents on to the cost of each fare but the exact cost would not be known until specifications have been decided on.
Taxi drivers who spoke to nzherald.co.nz at Mr Mohini's funeral last week said they would support safety regulations.
Taxi driver Peter Vengala said he has been stabbed in the back after being called to an address on Auckland's North Shore.
He said a man wearing a mask asked for his money before telling him: "I'm going to kill you".
Mr Vengala said the industry needed to be regulated in the same way Australia was.
Another driver Karamjit Singh had been driving taxis for seven years and said drivers were scared to work at night.
"At night you cannot keep an eye on the passengers, if they are sitting in the back you can't see what they are up to," Mr Singh said.
He said perspex screens around the drivers were needed to protect them from being attacked by passengers.
Asked if security cameras could also help, Mr Singh said: "The camera can identify but it can't save you."
Another driver, Sahib Singh, said he would be willing to pay the $2000 cost of installing the screens.
"Life is very precious," he said.
"We think the authorities should do something for the safety of drivers," Mr Singh said.