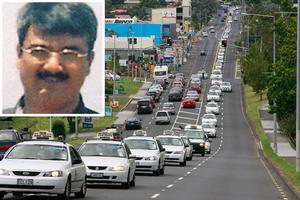 Hundreds of mourners packed the Waikumete Cemetery Chapel in West Auckland yesterday to remember slain taxi driver Hiren Mohini.
The 39-year-old husband and father of two died early on Sunday after being stabbed by a passenger.
The gentle and hard-working man did not deserve to die in such an "unimaginable and unfathomable" way, grieving relatives said.
From his childhood in Mumbai, where he doted on his sister, to the taxi stands of central Auckland, Mr Mohini had a smile for everyone, mourners heard. "He used to always come out of his car and say, 'Hi, hello and how are you,"' said one friend.
The story was told of the time a passenger did a runner to escape paying his fare - but dropped his cellphone.
The Auckland Co-Op Taxi driver called out after him and handed the phone back with the words, "Don't worry about the fare, you're a young man, just get home safely."
In years of driving a cab he never had a complaint. "In fact quite the opposite," said Auckland Co-operative Taxi Society chairman Ian Graham.
And yesterday it showed.
Scores of Mr Mohini's fellow cabbies brought traffic to a crawl as a convoy of cabs snaked its way to the service, black ribbons flying on aerials.
Neighbours spilled on to the streets to pay their respects.
Five days after Mr Mohini was found slumped over the wheel of his cab in View Rd in Mt Eden, police are still hunting his killer.
The investigation team has swelled from 30 to more than 40, and yesterday Detective Senior Sergeant Hywel Jones renewed his appeal for information.
A bloodied blue bag found near the scene might be a key to the crime.
"It's a medium-sized shoulder bag which also has a small handle of the same royal blue fabric on it and was found in the View Rd area by a resident who called police on Monday night," he said. "The logo is unusual and the bag itself does not belong to the resident or any of the immediate neighbours."
Mr Mohini's death has recharged calls for tightened safety in taxis.
Speaking at the funeral, the Taxi Federation's Tim Reddish said Mr Mohini was "kind, generous and humble in spirit, and God knows we need more people like that".
Of his death, he said, "Surely now enough [is] enough ... We must act now to do everything in our collective power to protect vulnerable and defenceless taxi drivers."
Transport Minister Steven Joyce is promising to meet key industry figures to discuss safety measures such as screens and security cameras.
- additional reporting: Edward Gay