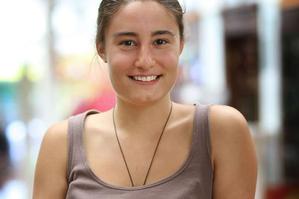 New Zealand students topped the results tables for 29 subjects in the 2009 Cambridge International Examinations.
About 10,000 students sat Cambridge examinations in more than 50 state and independent New Zealand schools in November 2009.
Cambridge exams offer an alternative to NCEA and are recognised by universities here and overseas.
Top marks were obtained in a range of subjects from accounting to English literature and classics to maths.
Former Pinehurst School student Ana Lenard, 18, came top in the world for A level geography, scoring 96 per cent. She was also New Zealand's best student for drama, with 92 per cent.
"It was quite a surprise - I wasn't expecting it," she said.
The daughter of Deputy Prime Minister Bill English, Maria English, got the top mark - appropriately - in A-level English. The result for the 18-year-old Samuel Marsden Collegiate graduate mirrored her last year's result, when she topped the AS-level exams in the same subject.
"I thought I'd done quite badly. I felt pretty bad about the exam," she told Campbell Live.
More than 90,000 students from more than 100 countries take part in the Cambridge exams, which are held twice a year in June and November at three levels, IGCSE in Year 11, AS-level in Year 12 and A-level in Year 13.
Nine New Zealand students came top in the world for A-level, 24 for AS-level and 14 for IGCSE, based on the November 2009 examinations.
Critics of the Cambridge exams say they are "Third World" and studied in developing countries such as Bangladesh, Botswana and Sierra Leone.
Schools in Britain, Europe, the United States and Canada take part, but they mostly sit the exams in June so their results are not ranked against those from New Zealand schools.
- ADDITIONAL REPORTING: NZPA