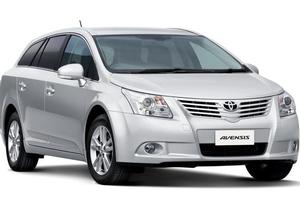 Sixty suspect vehicles are being sought in New Zealand as part of an international recall of Toyota cars with faulty accelerator pedals that can stick leading to unintended acceleration.
Toyota New Zealand will contact the owners of the Avensis wagons that could have the faulty accelerators and organise for the vehicles to be examined and repaired if necessary.
The problem is caused by condensation that builds up in the pedal assembly, causing it to stick.
The company said yesterday it hadn't received any complaints about the problem in New Zealand.
The New Zealand Avensis wagons are from Toyota's Derbyshire plant in Britain and the faulty components are from a US supplier, CTS.
As many as 4.2 million vehicles worldwide are affected with just over two million of the cars in the United States, where production has stopped and sales have been suspended.
Most new Toyotas sold here are sourced from Japan, Thailand and Australia, and there is no suggestion they are a problem.
Toyota general manager, after sales, Paul Carroll said repairs should be straightforward once replacement parts arrived.
AA general manager technical services Stella Stocks said Toyota was following the industry code introduced a few years ago to administer safety-related recalls on used vehicles.
The company would be focused on identifying the problem, getting the vehicle checked which would then give the vehicle owner peace of mind, Ms Stocks said.
With any type of safety issue it was prudent to issue a recall.
"It's really important for consumers to know these things will be followed through in a professional way," she said.
Dog and Lemon editor Clive Matthew-Wilson blamed the faults on Toyota getting "too big too quickly" which he said led to reduced quality.
He said the "bad publicity won't do them any good".
However Toyota New Zealand executive director Alistair Davis doesn't believe the brand will be affected.
"It's not what's said so much in the media in the short term but what the customer experiences in the long term, as to whether the company stands by its products or doesn't, that builds you a customer reputation."
The decision to stop producing, and selling, affected vehicles in the United States was a positive, he said.
"I think the sales stoppage has been an incredibly positive thing - it says, 'we are concerned enough to stop sales to fix the problem.'
"I think the concept of actually dealing with the problem, rather than trying to hide the problem, is giving customers confidence. We have been working flat out trying to find what this issue is. We've found it - we're now fixing it."
Mr Davis said the risk to drivers was minimal, he said.
"The chances of it happening are so slim, it's highly unlikely. But we are trying to verify that at the moment."
- additional reporting NZPA