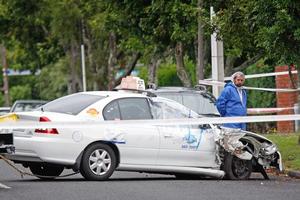 The search for a man who allegedly stabbed and killed Auckland taxi driver Hiren Mohini in what police describe as a frenzied attack has been stepped up with 30 investigators now hunting the killer and the weapon used.
Mr Mohini, 39, crashed his cab into a tree in View Road Mount Eden at about 1.20am on Sunday after allegedly being stabbed by a passenger.
Officer in charge of the investigation Detective Senior Sergeant Hywel Jones said Mr Mohini died at the scene as the result of multiple stab wounds.
"It was a frenzied attack."
Investigators were back at the scene today carrying out an area canvass, talking to residents and others in the locality.
"There are a large number of witnesses to interview not only from the street where the murder happened but also other locations such as the CBD where a male suspect is believed to have hired the cab driven by the deceased," Mr Jones said.
"We are accessing security surveillance footage from a number of locations and working on some strong leads that will assist us to locate the killer. This is a complex murder investigation," he added.
Tansport Minister Steven Joyce and Prime Minister John Key said today the Government would review taxi safety and consider mandatory safety measures.
The incident has prompted renewed calls by the Taxi Federation for the Government to make safety measures such as cameras installed in cabs, mandatory.
Mr Joyce today said taxi safety did need to be looked at again. It had been reviewed in the past after earlier attacks.
"We're ending up in a situation where New Zealand isn't as safe for taxis late at night any more," he told Radio New Zealand.
One of the challenges was having the taxi industry agree on what mandatory measures needed to be taken, he said.
"The Taxi Federation feels very strongly that cameras would have a deterrent effect ... and there are taxi drivers who feel very strongly that the only safe option are screens."
Screens however could limit the number of passengers a taxi could hold and cost about $1000 to $2000 to install, Mr Joyce said.
There was also a responsibility by taxi owners and companies to provide a safe workplace, "and ultimately this will have to be borne by the taxi industry".
"It's part of the cost of doing business."
However, Prime Minister John Key did not rule out government funding and said all options would be considered. Mr Joyce, transport and Labour Department officials would have a meeting within a fortnight.
"Obviously firstly tremendous sympathy goes out to the family. It's a tragic situation," Mr Key told Breakfast on TV One.
"We've also had two taxi drivers now killed in 14 months so I don't think either government or industry can sit back and just ignore this. Any person is entitled to know that they are safe as they can be in their work environment."
Options to be considered ranged from mandatory screens and cameras to the status quo. Implementation was not straight forward and there were also questions around whether the taxpayer should help or if taxi users should pay, Mr Key said.
Police say the man seen fleeing the scene was slim, dark-skinned in his mid to late 20s, about 1.74m tall. He had long, greasy wavy or curly hair, which was swept back from his forehead.
He was wearing dark jeans, black shoes, a long-sleeved shirt and carrying a black bag with a strap.
Mr Mohini leaves a wife and two daughters, aged five and two.
Anyone with any information is asked to ring 0800 OPERATION EDGEWATER (0800 444 014) or Crimestoppers on 0800 555 111.
- NZPA