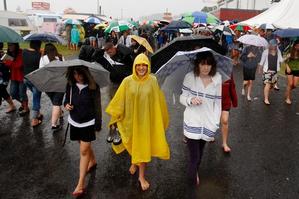 The rain came down in monsoon strength at the country's biggest Christian music festival yesterday, leaving the worst-hit of about 7500 tents several centimetres under water.
Some of the 25,000 people attending the Parachute festival, more than 17,000 of them camping in tents alongside the Waikato River at Hamilton's Mystery Creek, packed up and headed home early last night.
"We're going to travel home overnight instead of staying another night," said Tom Goodger of Waipukurau, who brought his whole family to the festival.
It's the third year the family has been to the festival and the second time they have been flooded out - the same thing happened two years ago. But they were not complaining.
"It's been fun," said Mr Goodger's daughter Madison, 10.
"It's been nice weather except for today," said Amy Svenson, 16, from Palmerston North, as she packed up for an early departure.
Corban West, 10, from Putaruru, slept in a small tent the first two nights but planned to move into his family's larger tent last night.
Swiss visitors Pauline Reymond, 21, and Yvonne Liechti, 19, were desperately trying to light a gas cooker in a big open tent when the Herald visited.
"All our clothes are wet, all our cooking stuff is wet," Ms Reymond said. "It's very funny. I don't know what we will do tonight."
Cameron Maloney, 19, from Papakura, was determined to stay upbeat as he surveyed his pup tent under several centimetres of water.
"It's still dry inside," he said - and indeed it was, though it was hard to believe he could stay dry for another night in it.
But his friend Cameron Pratt, also 19, had holes in the bottom of his tent and slept last night in his car.
It was Mr Pratt's fifth year at Parachute, but he wondered whether he should have come.
"For the amount of money we paid for the tickets, we could have just driven on a massive road trip to a beach somewhere," he said.
Punters paid between $105 and $172 for individual weekend passes and between $250 and $412 for families.
This year's festival, which ends at 1pm today, drew a crowd slightly up on last year's 23,750, but below the peak of 27,250 in 2008.
The festival began with 1200 people at a Christian holiday park near Wellington in 1992, and claims to be the largest Christian music festival outside the US.