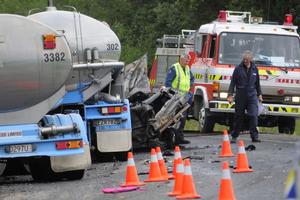 One person is dead and another injured after a smash between a car and a Fonterra milk tanker - one of four fatal crashes since Friday.
The crash happened 25km southeast of Whakatane about 2.30pm yesterday. Police said the crash had closed State Highway 2 East, between Waimana Rd and Eagles Rd in Waimana.
Traffic was diverted for more than four hours.
Whakatane district councillor Ian Shearer said that stretch of road could be dangerous.
"There are areas where it gets a little bit narrow and tortuous. Locals learn how to handle the corners. It doesn't surprise me to hear it's a tanker."
A Fonterra spokesperson said the driver of the tanker was taken to hospital for a check and would be offered counselling.
Another motorist was killed after a car crash on State Highway 27 about 8.30 last night, forcing police to close the road.
Two motorcyclists died in separate crashes around the country over Friday and Saturday.
One man died after a motorcycle accident on the Shenandoah Highway south of Murchison yesterday. He died at the scene.
Another man was killed on Friday evening when he crashed his motorcycle into a corrugated iron fence on Woodward St in the Hamilton suburb of Frankton. He was Mathew Graham Francis Matassa, 36, of Te Pahu.
A large chemical spill near Queenstown closed Crown Range Rd for more than four hours yesterday while emergency services and pollution response units worked to clean up the area.
A trailer carrying 1300 litres of aviation fuel came loose from a van and spilled an estimated 400-500 litres.
- ADDITIONAL REPORTING: JOSEPH BARRATT