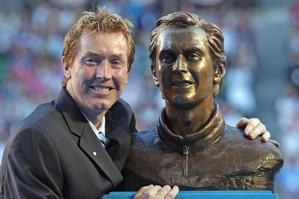 Kennedy mentions in the autobiography written not long before his death that one of his father's strictures when they were young was: "There'll be no crying in this house."
Many of his generation will find that familiar. Kennedy recalls it because his family's refusal to weep in public or reply to slander has been called excessive reticence, apparently.
I can't recall that criticism but nor can I remember any of the Kennedys dissolving in public during their tragedies. There was grief in their faces but the closest thing to a tear - and the photographer probably had to wait a while for it - was a finger at a downcast eye.
How times change.
On Tuesday night the Australian Open tennis tournament paused to mark Australia Day with a little ceremony that included an unveiling of busts of the successful doubles combination Mark Woodforde and Todd Woodbridge. Both the "Woodies" were invited to speak.
Woodbridge, who used to be very much the junior partner on court, went first and expressed his pleasure and honour at their induction in a hall of fame with Australia's greats of the game.
Then Woodforde came to the microphone and there was silence, followed by a murmur of sympathy around Rod Laver Arena as the crowd realised he was tearing up. The camera caught him not so much composing himself as happily letting his eyes well before he spoke. And it turned out he had much less than Woodbridge to say.
Every time this sort of thing happens I would love to take a poll of people's hearts. How many, I wonder, believe it?
The Melbourne centrecourt has seen this before.
The last time Roger Federer won there he went to the mike to acknowledge his umpteenth major title and plainly couldn't think of anything to say. So he cried.
I don't think I'm being cruelly unfair, I defy anybody who watched it to honestly describe it differently.
He stood there for a long moment, devoid of words or any sign of thought, before he crumpled his face and cracked up. An official had to relieve him.
Maybe somebody has been standing by to do the same thing tomorrow.
Federer is probably the most elegant and complete player tennis has seen. He alone gives the modern stand-back-and-slap game some of the grace of old. He has extraordinary composure on court so why not afterwards?
Maybe he grew up watching Pete Sampras too closely. The previous champion was much worse.
A game that produces more than its share of brats has become oddly soppy on top.
Tennis in this part of the world has gained a lot from this Australian Open. More sports fans than usual have been talking about it. They say it seems different somehow. I think I know how.
This year the tournament did not schedule every session to start with a women's match.
Nobody likes to say this out loud, but top women's tennis is not good enough. The play is average, the players, with the exception of Justine Henin and Serena Williams on a good day, not mentally hard.
Many contests are one-sided but don't finish as quickly as they should because the winner is not ruthless. Sometimes this is charming but it can be painful when a promising men's match is waiting to follow.
This year more televised sessions started with men and more casual viewers stayed with the matches. Hopefully they will not witness another tearful exhibition after the final.
Television loves tears and sentimentality has caught on. Weeping in public is now what you do to express stress. The farmer whose dispute with Transpower cut electricity to Auckland this week shed a tear. Not for consumers, I suspect.
Privately I weep as readily as the next man, possibly more, and I don't want to suggest emotion in any situation can be contrived. I thought wedding tears were a feminine cliche until I was father of a bride.
The emotion behind today's displays may be real but we didn't used to need the display. Joseph Kennedy's generation would have no tears in the house because they valued emotional strength and dignity.
No doubt it was the post-war therapy industries that changed the culture.
Sometime in the late 20th century it became all right to cry. Tears transmitted by television eventually proved capable of turning emotion into a vast, vicarious experience.
The death of Princess Diana eclipsed the Kennedy assassinations in mass emotional response, if nothing else.
Now we see weeping for stress that is less than tragic, or success the weepers have experienced before. If it's real, they could at least have the dignity to be embarrassed. Their lack of embarrassment embarrasses me.