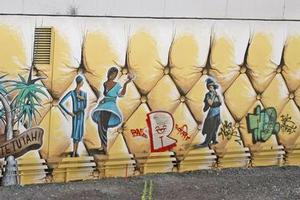 Newmarket Broadway's newly finished wall mural, painted to deter graffiti, has been vandalised.
Completed last week by Hibiscus Coast artist Dan Mills, it was painted to protect the walls at the Newmarket railway corridor, which has been a popular canvas for "taggers" for years.
The artwork - on either side of the tracks under Newmarket's main commercial street, Broadway - included a crushed leather backdrop, people dressed in early 1900-style clothing and paintings based on the town's history.
Research suggests that taggers tend to avoid vandalising other artists' work out of respect.
But times have changed and the fight to stop graffiti on Broadway will continue, Newmarket Business Association chief executive Cameron Brewer says. "We were anticipating that there would be some vandalism to it. But the good news is that it's all graffiti-guarded and it will be cleaned up come Saturday morning."
Mr Brewer - with other groups, including the Auckland Region Graffiti Free group, the Auckland City Council, rail owner Ontrack - initiated the project to have the mural painted.
He said the idea that taggers would not vandalise other artists' work was a traditional one, which usually brought positive results.
The group would now have to look at introducing other measures, including installing surveillance cameras, increasing lighting in the area and also cutting off several access ways on to the railway corridor.
"This is a small setback," Mr Brewer said, "but we're confident in keeping it clean, and we will win this battle."