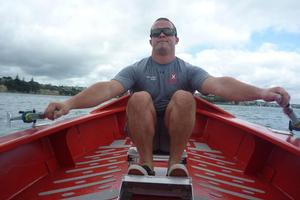 His hands are ripped up with blisters and rough seas have caused many sleepless nights, but transtasman rower Shaun Quincey has his eyes on the prize.
"It doesn't matter if you're motivated or not, you've still got to row to New Zealand," the 24-year-old Aucklander said via satellite phone yesterday while sitting about 540km east of Sydney.
He left New South Wales in the Tasman Trespasser II 10 days ago in a bid to become the first person to row solo west to east across the Tasman.
Every attempt before him has failed. Australian kayaker Andrew McAuley, 39, died during his bid in February 2007.
Quincey's father, Colin, is the only solo rower to have completed the reverse journey, from New Zealand to Australia, in his boat Tasman Trespasser in 1977.
Lightning storms and high seas confined Quincey to his cabin in the early days of his voyage but he has since hit smoother seas.
"I'm feeling very positive and pretty good in my head at the moment about everything and I'm just chopping away at the goal day by day," said Quincey, who is from Devonport.
He expects to hit the North Island in late March.
- AAP